Workspaces in Dynamics 365 for Operations
Workspaces are one of the new hallmark features in Dynamics 365 for Operations (formerly Dynamics AX). Each workspace provides an overview of a specific business processes, rather than focusing on module.
Within Workspaces, you can view both transactional data and analytical data through visuals, tiles, KPIs, and quick links to reports and pages, allowing for a highly-productive work environment.
Each workspace is customizable through:
Personalization: Within a workspace, select OPTIONS> Personalize to modify the workspace form.
Configure a workspace using the 'Configure my workspace' option, then filter the data within the workspace.
Add components to a workspace:
From a list-page (Example: All Production Orders), select OPTIONS> Add to Workspace.
Select the desired Workspace.
Choose whether you want the data presented as a tile (graph) or listed on its own tab (list).

Production Floor Management Workspace
The Production Floor Management Workspace provides a one-stop shop for production supervisors by consolidating a number of relevant production forms/inquiries.  There's no need to navigate back and forth between MES, Time and Attendance, and Organization Administration. See the following at a glance:
Scheduled production orders
Material availability
Production jobs
Resource management
Production journals
Selecting "Configure my workspace" allows you to filter on Production Units, Resource Groups, or specific Resources.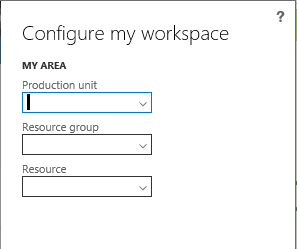 Within the workspace, a graph displays a quick snapshot of the number of jobs not started, stopped, in progress, and completed.
You can also create a new production or batch order without leaving the workspace.
The Jobs to Complete tab eliminates the need to navigate to the Edit Job List form. The list displays all production jobs for all released orders, the assigned resource, operation, order number, and quantity. You can move jobs up or down, assign a high priority, reassign a job to an available resource, and view the progress of a specific job.
The Production Orders to Release form displays the scheduled production orders with a start date of today or earlier. For each order, you can view the on-hand inventory for all required materials. This allows you to evaluate material shortages before releasing an order. It also eliminates the need to navigate to the Material Stockout List or BOM form to view each item's on-hand inventory.
The Production Orders to Release also gives you a view of how an order is exploded in the master plan. Finally, you can release an individual production order or release all available orders from this screen.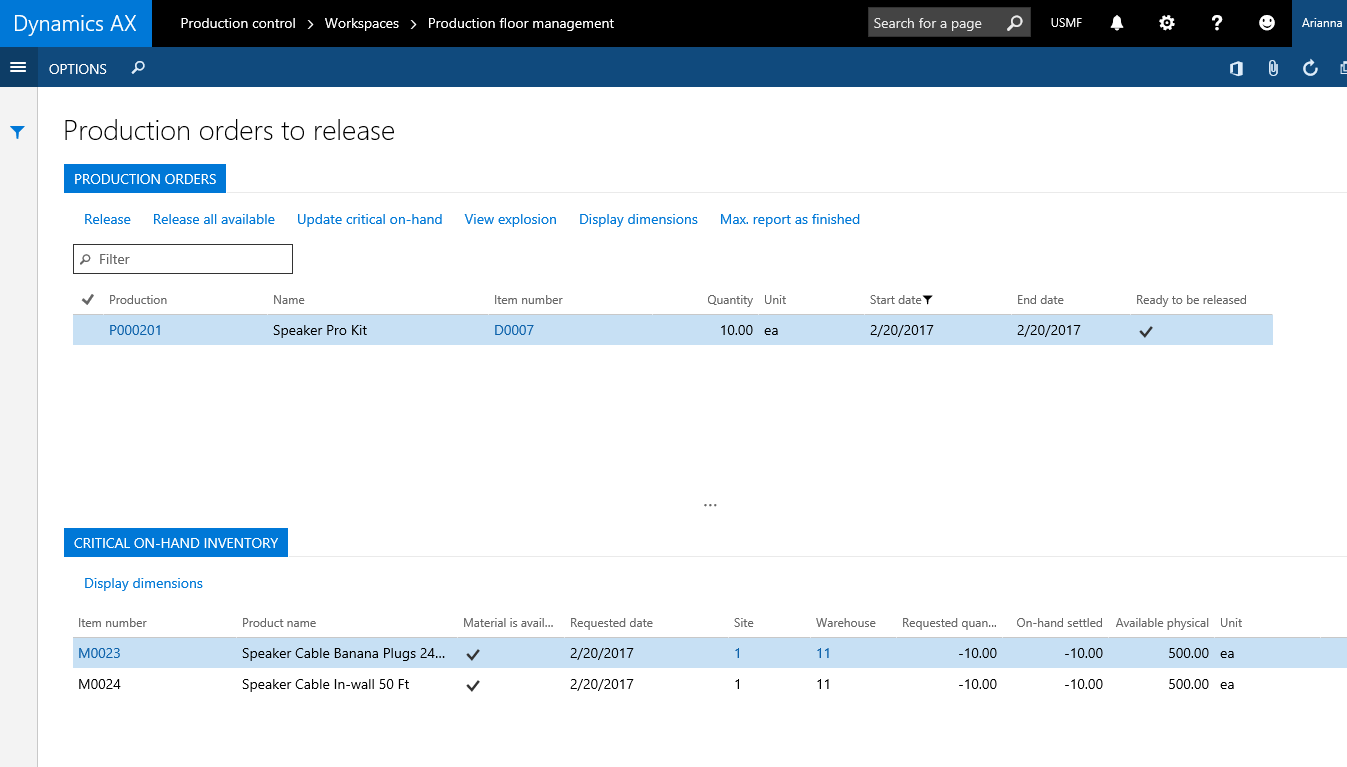 There are a number of important links in the Workspace that eliminate the need to navigate between modules. Many of the available links can be added as a tile or list directly in the Workspace. Some links include:
All Production Orders: View and edit all production and batch orders.
Resources and Resource Groups: View Gantt charts, capacity load, and other information without having to navigate to the Organization Administration module to access resources forms.
Journals: View and edit picking lists, route cards, job cards, and report as finished journals.
Time and Attendance: View raw registrations and the registration history.  Calculate and approve registrations.
Job Card Terminal: Open the job card terminal, formerly known as the Job Registration form, to start, report feedback, and complete jobs.
Microsoft Dynamics 365 for Operations users can put these tips to use and see how they can make an impact on your day to day business and help you become more efficient.
---
Sources: