Microsoft Dynamics 365 Business Central
Cloud ERP to Connect your Entire Business
Missed Aspire22? - Not to worry! You can now access every session on-demand. Register now to unlock this exclusive content.
Cloud-based Accounting Software for Small and Medium Businesses
Microsoft Dynamics 365 Business Central (D365 BC) is a single, cloud-based business management software solution that provides the security, mobility, and flexibility your business needs to thrive in a digital world. This cloud ERP software helps small and medium-sized businesses (SMB) grow by managing everything from financials to operations. With a Dynamics 365 Business Central implementation you can connect finance, sales, service and operations to make integrated management of these functions faster and easier.
Whether you are interested in upgrading from a legacy on-premise ERP solution or have outgrown your current accounting software, Dynamics 365 Business Central is the cloud-based business management software for small and medium businesses. Velosio specializes D365 Business Central integration to individualize your deployment and provide all the right data for growth and innovation. Our expert technicians receive consistent recognition from Microsoft and provide unmatched service.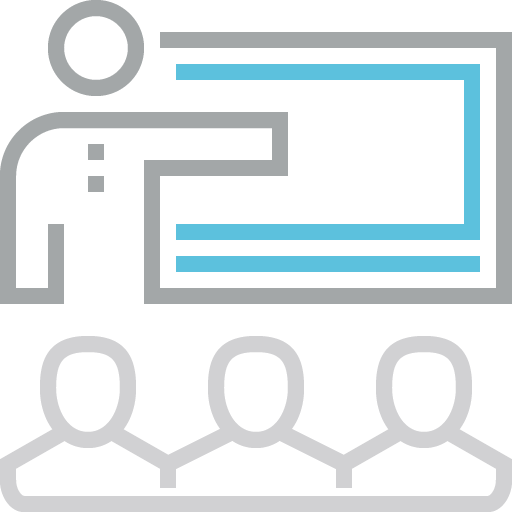 Get an end-to-end view of your business
Turn your multiple disconnected systems into one to increase financial visibility, improve forecast accuracy and maintain security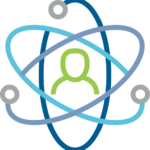 Sell smarter and improve service
Connect sales, services, finance and business operations for increased transparency and better collaboration features of Microsoft Dynamics 365 Business Central CRM.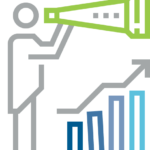 Guide employees to optimal outcomes
Integrate with Microsoft Office 365 and deliver the same user experience across all devices for access anytime, anywhere with D365 Business Central's cloud-based platform.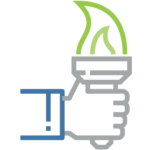 Make more informed, quicker decisions
Gain complete visibility into your business with real-time, connected data so you can optimize resources, lower costs and plan strategically
Dynamics 365 Business Central

Demonstration
SMB's are more interested than ever in how to harness the power of cloud-based business applications to support their growing business. Modernize your technology platform with Velosio by moving to the cloud. Microsoft Dynamics 365 Business Central can help you gain overall system efficiency and enable your teams to stay connected to the data they need to meet customer demands from virtually anywhere.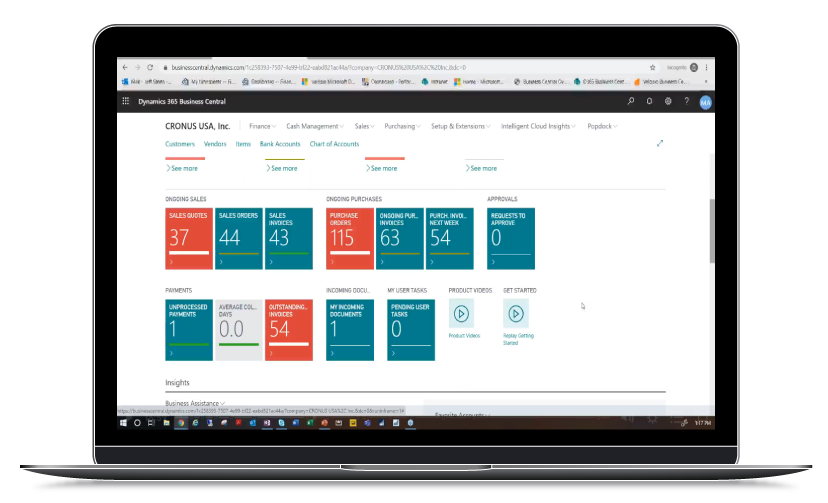 Simplify Operations >
Jira and Azure DevOps Connectors for Dynamics 365
Advanced Projects for Microsoft Dynamics 365 BC includes out of the box connectors for Atlassian's Jira, Microsoft Azure DevOps and even Microsoft Outlook! Our APIs allow development teams to save time and eliminate duplicate entry errors entirely for a fully integrated time and billing experience.
Key Dynamics 365 Business Central Features
Microsoft Dynamics 365 Business Central financial management features
See how Dynamics 365 Business Central features can transform your financial management, operations, and more!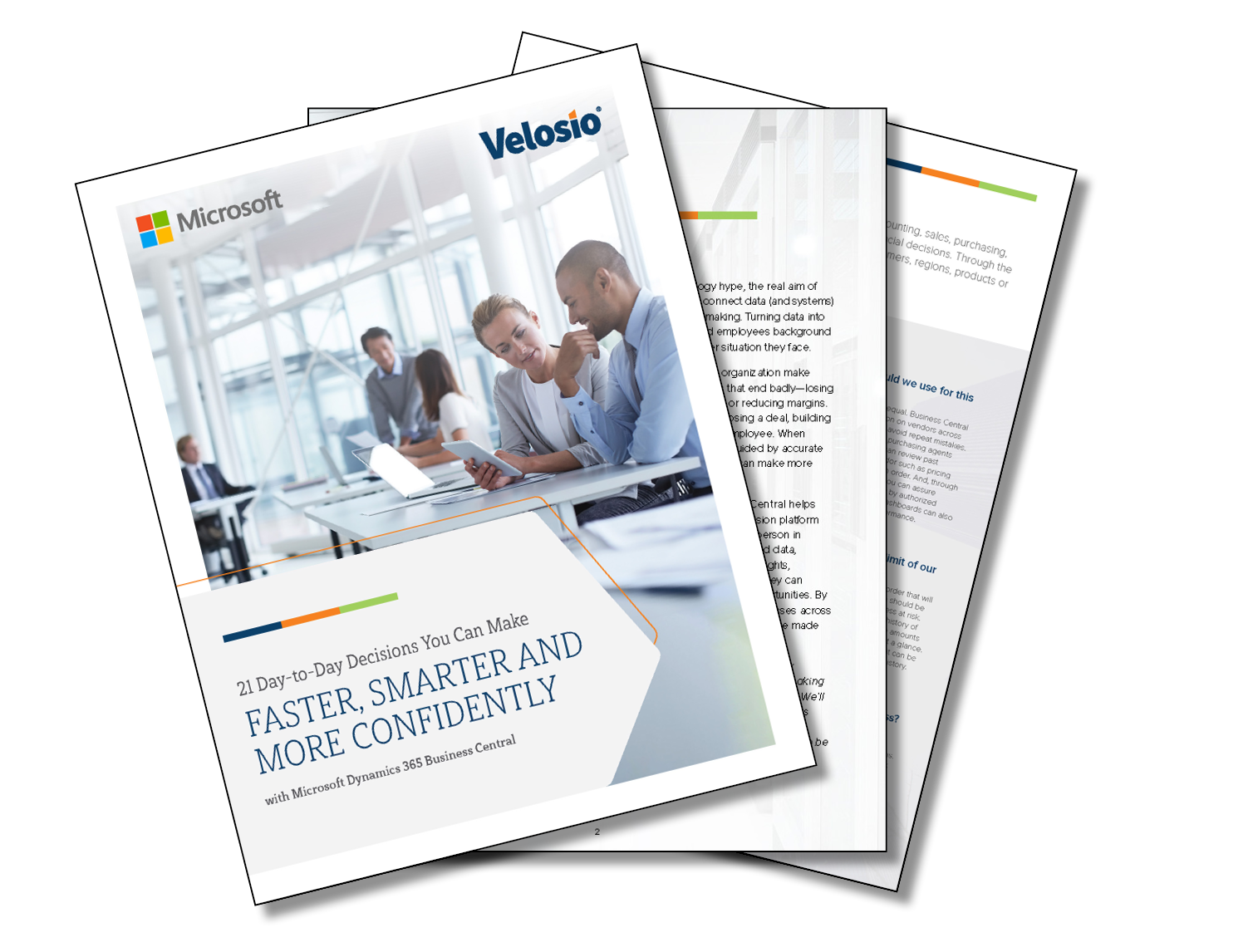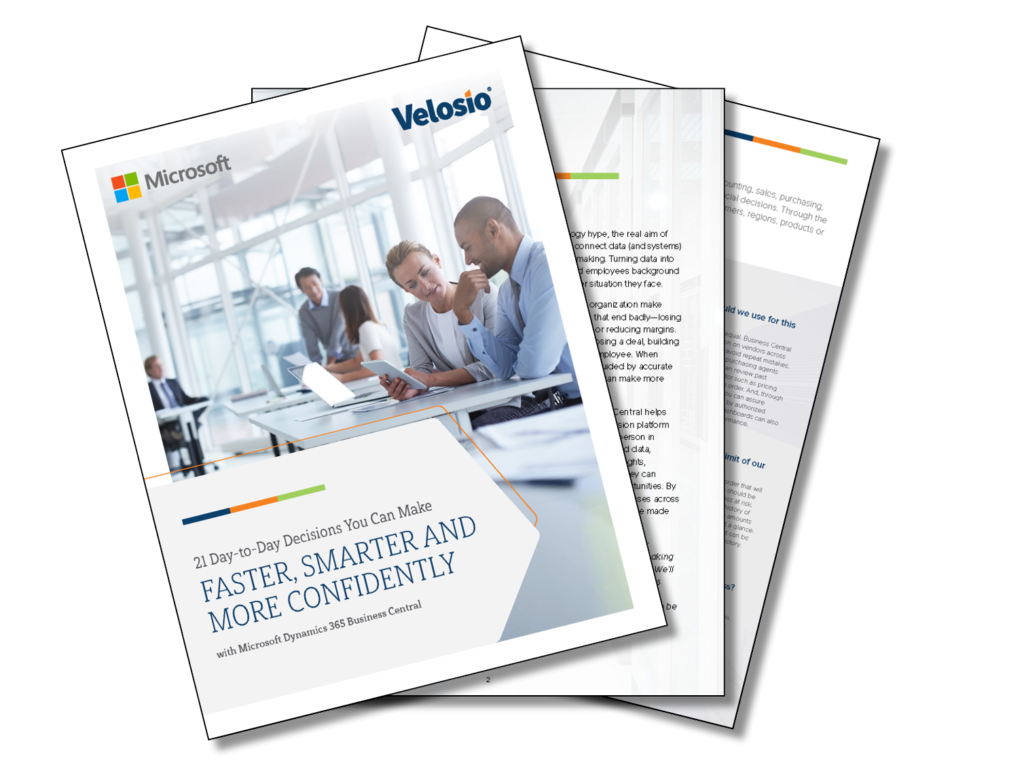 Connect your business with Dynamics 365 cloud ERP for SMB
Download our eBook to learn the 21 Day-to-Day Decisions You Can Make Fast, Smarter, and more Confidently with Dynamics 365 Business Central.
| | |
| --- | --- |
| | Easily allows for Remote Workers |
| | Reliable, Modern Cloud Solution |
| | Very Cost-Effective |
| | Faster, Better Support |
| | Extremely User-Friendly |
"I appreciate how quick Velosio is to respond. I've never had to wait two days for a response like I have with other partners"
Wendy Fauver, Accounting Director
Port of Anacortes needed to replace its aging, older version of Microsoft Dynamics SL on-premise solution, as it was frequently crashing, causing disruption to business operations.
Port of Anacortes selected Velosio as their new partner and cloud-based Microsoft Dynamics 365 Business Central for all-up business management and remote worker support.
| | |
| --- | --- |
| | 34% Savings over SalesForce |
| | Streamlined Scheduling |
| | Utilization Monitoring |
| | Quote to Cash Visibility |
| | Reduced Manual Processing |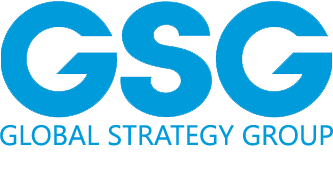 "We felt as if BC was perfectly geared for our industry, size and marketplace, and it was a good price,"
Andy Ho, SVP Technology
Outgrowing Salesforce, Global Strategy Group needed a comprehensive, modern business solution for improved customer relationship management, project automation, and business management.
Global Strategy Group selected Dynamics 365 Project Service Automation and Dynamics 365 Business Central to gain better project control, ensure deliverables, and increase productivity.
Solve Your Toughest Business Challenges in the Cloud
In the future, success will be defined by your ability to embrace digital transformation, so you can focus on enhancing your operations, empowering connections with customers and driving business growth. There has never been a better time than now to adopt a cloud-based business management software solution. With a cloud solution, you can take advantage of next-generation tools that help you integrate business practices, quickly make more informed decisions and easily scale and grow.
Some benefits of cloud-based D365 Business Central include:
More computing power with lower total cost of ownership.
Improved collaboration with mobile capabilities
Security you can rely on with confidence
Smarter decisions with real-time data
Take your business to new levels for a more profitable tomorrow
Streamline your processes, make smarter decisions, and accelerate growth with Dynamics 365 Business Central—comprehensive, cloud based business management software designed to run your entire business with a single solution.
Connect your business
Dynamics 365 Business Central is a cloud ERP for SMBs that's connecting people and processes like never before. From day one, it makes managing your financials, sales, service and operations easier and faster.
Make smarter business decisions
Turn your multiple disconnected systems into one. Boost efficiency with automated tasks and workflows—all from within familiar Microsoft Office tools like Outlook 365. Get complete visibility into your business and make better decisions, with built in business intelligence when and where you need it.
Start and grow easily
When you run your business in the cloud, it's easy to adapt and evolve your solutions at your own pace without an in-house IT team. You can start by implementing the features and functionality you need and prepare for future scaling, all within Microsoft Dynamics 365 Business Central.
Mini Demo: Business Central Integration with Outlook and Microsoft Tools
Mini Demo: Business Central Integration with Office 365 and Excel
Mini Demo: Business Central Integration with Power BI Dashboards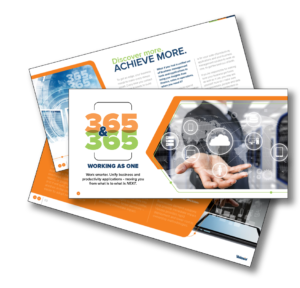 Office 365 + Dynamics 365 Business Central
Unify business and productivity applications – moving you from what is to what is NEXT.
Download the eBook to learn how you can achieve more.
Fast-Track Your Digital Journey with a Partner Committed to Your Success
Companies throughout North America rely on Velosio to move to what's next on their digital journey. Our momentum, expertise, and insight combine to create a menu of offerings that empower you to use technology to transform your business with confidence.
Velosio has made a name for itself as one of Microsoft's highest-performing partners. In fact, we're in the top 1% of performers worldwide. We provide comprehensive support services and are proud to be a one-stop-shop with tools for just about every aspect of business operations. Our team can help you analyze, track, communicate and do so much more to grow your business.
With Velosio, you receive fully customized solutions and fast deployment from the team that knows what businesses need. We've worked with world leaders across industries and have the extensive insider experience required for complex implementations of Microsoft Dynamics 365 Business Central and the entire Microsoft cloud platform.
Reach out to us today to learn more about D365 Business Central and what this powerful program can do for your company.