If you are searching for the right accounting and business management software system, you probably know that two of the most important elements to consider are TCO (Total Cost of Ownership) and ROI (Return on Investment).  Both should be looked at when you are comparing ERP software solutions, but in order for these numbers to truly help guide your decision making, you need to understand what they each mean.
Return on Investment (ROI)
ROI is a calculation that divides the average total savings, over 3 years, by the initial cost.  (Three years is the accepted operational threshold for technological innovation and product usability).  An ROI calculation will account for both direct benefits (explicitly quantifiable cost savings or revenue increases) as well as indirect benefits (returns that are not clearly observable, but whose effects can be measured through investigation).
Nucleus Research studied the ROI gained by companies that use one of four  highly competitive ERP solutions: Microsoft Dynamics GP, Oracle, SAP, and PeopleSoft.  They studied benefits in the following areas:
Reduced staff / increased productivity
Reduced IT or other direct costs
Improved customer / partner relations
Improved operations / visibility
Reduced accounting / auditing costs or improved financial management / compliance
Microsoft Dynamics GP users were the only study participants to report gains in all five of these benefit areas. They were also the able to achieve a positive ROI faster than users of any of the four competing products: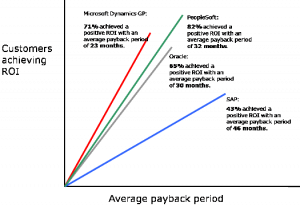 Total Cost of Ownership (TCO)
TCO is the calculation all of the costs of purchasing, implementing, supporting, and using a product over its lifetime.  It can help you budget for projects and compare similar products.  However, since TCO does not weigh the benefits that the software brings you, it isn't reliable to help you select a software application or prioritize projects.
Once again, Nucleus Research compared the TCO of these four products.  This study revealed that of these four software solutions, Microsoft Dynamics GP had the lowest TCO on account of the fact that it takes less time to deploy and fewer resources to support than the other solutions.
See the full results of the Nucleus Research study.