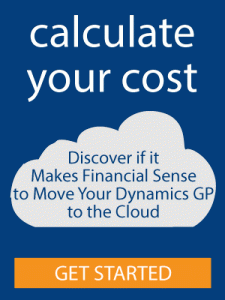 It's easy to hesitate regarding significant technology upgrades — especially when you aren't certain whether the value is there for your organization. But for most businesses, moving Dynamics GP to the cloud makes sense. The most current iteration of Dynamics GP is better suited to the cloud than an in-house system, both in terms of features and necessary resources.
Upgrading Your Microsoft Dynamics GP
Companies that are still running older versions of Dynamics GP will likely have to upgrade soon. As with many older products, support for 2010 is about to be discontinued. Though prior upgrades haven't been significant, the newest Dynamics GP 2015 introduces a wealth of new features. These new features come at a performance cost on older systems. Rather than upgrading server infrastructure, companies can instead move their Dynamics GP into a fully scalable cloud solution. Thus, when upgrading, it makes more sense to transition to the cloud than to invest in more equipment and technology — making the timing perfect.
The Advantages of a Cloud Solution for Dynamics GP
No upfront costs regarding equipment upgrades or purchases. Whether you're shifting to Dynamics GP from another solution or simply upgrading an older version of Dynamics GP, a cloud solution will not require any initial outpouring of cash.
Available anywhere in the world. Your Dynamics GP installation will be accessible by you and your team anywhere in the globe via the Internet, improving collaboration and allowing for a better work dynamic.
Improved regulatory compliance. Cloud solutions providers ensure regulatory compliance in terms of security, including industry-specific standards. By managing your own server, you take regulatory compliance into your own hands.
Highly scalable. If you feel as though you may need to deploy additional resources in the future, a cloud solution simply makes sense. Rather than having to invest in future infrastructure upgrades, you can simply pay for the resources that you need.
Protected against data loss. Data breaches and data loss are incredibly costly to the modern business. A cloud solution will provide syncing and redundant backups to ensure that your data is never lost.
Improved reliability. With a cloud service, you're guaranteed a certain amount of uptime. With an on-premises server, you have to guarantee a certain amount of uptime. Not only does this mean that your on-premises server may not be as reliable, but it also means that you'll need to pay a team to ensure that it's always up and available.
Cloud solutions are reliable, scalable, and inherently more accessible. If you have found that your Dynamics GP solution would benefit from any of these features, it's likely that it's time to move your Dynamics GP to the cloud. There is no significant downside to a transition to the cloud — in fact, far from it. Most companies save considerable amounts of money by transitioning away from on-premises equipment.