Does Your Distribution System Meet 2020 Demands?
A Business Leaders Guide to the New Digital Age
Gain an in-depth understanding of digital transformation and its benefits for driving growth, innovation, and success. This guide is a practical and actionable resource that helps business leaders navigate their digital transformation journey.
See if your system passes the test!
Diagnostic Checklist: How Does Your Distribution System Measure Up? 
This Diagnostic Checklist will help you assess any gaps in your system and identify opportunities for improvement.
The checklist focuses on three areas to optimize your system and boost margins:
Business Process Integration & Optimization
Optimizing Inventory Management
Improving Supplier & Customer Service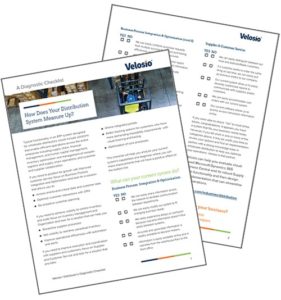 Built for small-and-medium distributors, Microsoft Dynamics 365 Business Central bridges system gaps by connecting data across your financials, supply chain, suppliers, and customers while allowing secure, remote access.
Velosio can help optimize your operations and business processes utilizing real-time visibility and improved workflows that prevent unforeseen stock shortages, accommodate rush orders, report in graphic formats, and much more!
Download your checklist now!