Wholesale distributors are up against a lot. Globalizing markets. Supply chain issues. Customer expectations that sometimes verge on the impossible. Inflation. The rise of AI and machine learning.
Without a strong digital-first strategy, distributors will lose market share, profits, and even their ability to keep their doors open.
There's no denying that distributors face an awful lot of pressure. But – the flip side of this is, the industry has been slow to embrace digitalization – which means, distributors that can manage to nail their DX strategies ASAP will be poised to win for years to come.
Here, we outline some of the key ways distributors are using technology to achieve their most critical objectives.
Build Resilience with Flexible, Responsive Supply Chains
According to InformationWeek, as companies, products, and services have become increasingly complex in response to customer and market demands, global supply chains have gotten more complex, too.
Transforming supply chains sets the stage for resilience, agility, and sustained growth.
AI and machine learning are transforming supply chain logistics — resulting in improved performance, less overhead, and better customer experiences.
But it's hard to know where to begin if you're just starting your DX journey. Microsoft recommends focusing on three key initiatives first, before moving on to more advanced projects.
Improving supply chain visibility. Again, it all comes back to that unified platform. You'll want to make sure that you have a global view of all inventory and supply chain activities, your core financials, your customers, and the rest of the business.
By embracing intelligent supply chain solutions built on a unified data ecosystem, distributors can integrate AI-driven insights into all core operations — allowing them to anticipate change, improve processes, and make rapid decisions using real-time data.
Microsoft just rolled out a new service for D365 Supply Chain Insights that allows subscribers to create a digital twin of their physical supply chain. Users can run simulations through the digital twin to prepare their response for future disruptions – be it weather, war, or persistent shortages.
Enabling better collaboration. In order to boost supply chain agility, you'll need to ensure that everyone has access to real-time supply chain data and the ability to take action in the moment. Here, "everyone" means internal teams, as well as external logistics partners and suppliers – you want to make sure each group has what they need to proactively respond to disruptions so orders still arrive on time.
Redesigning operations for a circular economy. If you're already redesigning core operational processes, you might as well design them with sustainability in mind.
For example, Microsoft used D365 SCM and the Power Platform to establish product flows that facilitated the recycling of the hardware and servers used in its data centers – making serious progress toward emissions targets.
Deliver the B2C Experiences Buyers Want
Today's B2B customers expect the kinds of B2C experiences they get from their favorite digital-native brands. Think — seamless journeys, responsive service, and personalization.
Distributors can improve experiences by focusing on a few key areas:
Embrace omnichannel e-commerce. According to InformationWeek, e-commerce brands are in an ideal position for using data and technology to improve customer outcomes.
The most successful companies use technology to build on existing capabilities. They're not just enabling the seamless experiences long embraced by digital native D2Cs, they're also leveling up logistics, financing, and long-term support.
Convenience. Creating self-service portals makes the process of researching products and placing orders much more convenient. Customers can log in to check the status of an order, look up pricing information, and find out if a product is available.
If you're using D365 Supply Chain Management, you can consolidate warehouse data via the platform's management model, ensuring that the information customers receive is always accurate and up-to-date.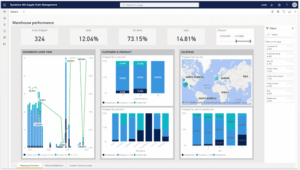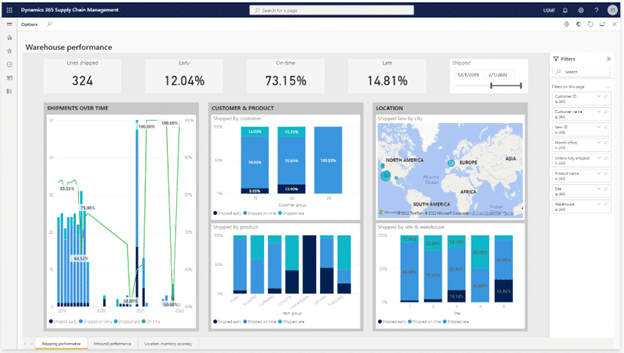 They can also manage things like service agreements, company profiles, and payment information on their own – without emailing back and forth.
Speed. Customers also have high expectations around product availability, responsive service, and on-time delivery. Intelligent supply chain operations and a modern ERP platform help distributors to exceed these high expectations — without placing extra demands on human workers.
SCM users can also allow customers to make delivery reservations in the self-service portal, using real-time inventory and available-to-promise (ATP) data.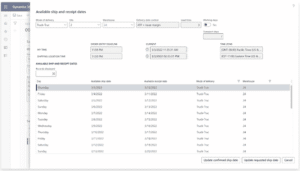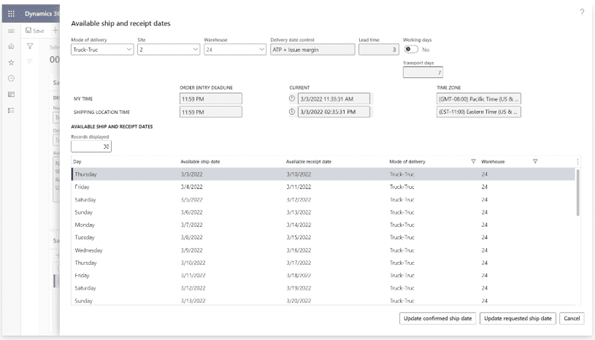 Baked-in automations enable orgs to process and fill orders around the clock. Customers automatically receive a confirmation email, inventory counts are updated, and orders routed to the right department.
And, if you ship from multiple distribution points, your ERP can automatically determine which warehouse to ship from using various data points like customer location, available inventory, sell-through rates, and more.
Personalization. Distributors can also enhance the shopping experience by orchestrating personalized journeys. D365 Commerce can help you integrate all backend systems and databases, then connect all touchpoints in the journey – payments, inventory, orders, returns, etc.
Tap Into New Digital Markets
The distribution space is in the midst of transitioning to a digital-first model – bringing increased competition from new entrants and big-name retailers like Home Depot, Ace Hardware, and Amazon.
While more competitors bring new challenges into the mix, it's pushing traditional distributors and wholesalers to explore new revenue streams.
Direct sales. If you primarily sell to larger retailers and enterprise consumers, one option is to tap into the SMB market. Historically, selling to smaller accounts wasn't cost-effective, as typically, agreements and distribution processes are complex and tailored to individual customer needs.
By embracing digital transformation – and the AI/ML tools that help you scale – you no longer have to focus exclusively on the accounts that generate the largest share of your revenue.
For example, D365 users can create templates and automations that streamline the process of onboarding new clients. They might also set up a dedicated ecommerce store that enables these customers to place smaller orders on their own.
B2C e-commerce. Another option is getting into the B2C game. Building a proprietary online retail platform allows distributors to sell to end-consumers directly – often by spinning off into a subsidiary business that operates under a different name. Here, you can use data from your core business to connect with new customers and present them with competitive offers and pricing.
Services. Many wholesalers and distributors already offer a range of services like warehousing, consulting, supply chain management, and more. But, leaning into digital transformation allows them to ensure these services deliver maximum value to consumers.
Proprietary insights. Finally, distributors might look for ways to capitalize on the mountains of data they collect. Supply chain and ecommerce insights might be packaged and delivered to other companies as a SaaS subscription. Or, you might use them as the basis of your consulting service – offering original insights to clients, in the vein of the professional services business model.
Final Thoughts
In order to compete, distributors must modernize their entire business, starting with the supply chain. From there, they can leverage new technologies to unlock new business models, keep up with customer expectations, and get ready for disruption.
Velosio's distribution management solutions help businesses of all sizes transform their supply chain operations, respond to real-time price changes, and maximize profits. Contact us today to talk with one of our experts.