Have you ever done a lookup in Sage MAS 90 or 200 and thought that the columns of result data you were seeing were not what you were looking for?
The reason that happens is because the content of the data you see when clicking on the "lookup" button (or pressing the F2 key) to search for records is initially set by Sage so you don't just get an empty screen when searching:
But, what if you want to see different information?  Maybe the "Sort Field" isn't used but, you would like to see "City", assigned to "SalespersonN" or any of the other seventy-odd fields available when searching for customers.
The User Lookup Wizard is a convenient tool to change the contents of the search window in such a way to provide a consistent result when searching for records.  It allows the modification of the search inquiry screens that can be applied to specific or all users and specific or all companies. In other words, when anyone in company "ABC" clicks on the lookup button to search for customers, the result could be different from the screen above.
For example; this screen would be more useful to a credit manager or salesperson performing a customer lookup.
To Access the User Lookup Wizard – look in the Library Master – Main menu. Pick the appropriate file for lookup you wish to change.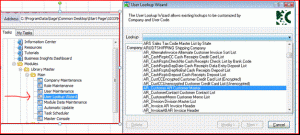 From there you can select the companies and users for whom the lookup will apply.  Individual users, if allowed through security permissions, may still create their own personal lookups but, this provides a method for consistency and allows designated persons to be responsible for changes.
By Alan Niergarth, an Ohio Sage ERP software consultant for Socius