Microsoft's New Commerce Experience (NCE) Explained
Find expert information from the licensing specialists at Velosio.
The Microsoft New Commerce Experience (NCE) is Happening Now.
The licensing experts at Velosio have created this page to help guide Microsoft cloud application users through this process. Have questions? Need help deciding what license options to pick? Fill out our form to the right to have a licensing expert reach out.
What is NCE?
Microsoft is updating their Cloud Solution Provider (CSP) program to as they look to enhance the digital transformation journeys of clients and partners. Part of this goal is achieved in the New Commerce Experience (NCE) that will affect your organizations commercial seat-based offers on Microsoft 365 (Office 365), Dynamics 365, Windows 365, and Power Platform.
Initially, all existing license plans were planned for mandatory update by July 1st, 2022, but the timeline has been extended.  Velosio clients will be migrated to NCE prior to EOY 2022.  Prior to your Microsoft license renewal, you will receive an additional email notification reminding you of this change but best practice would be to take action right as soon as possible.
Please refer to the table and content below for additional detail.
Request a licensing review: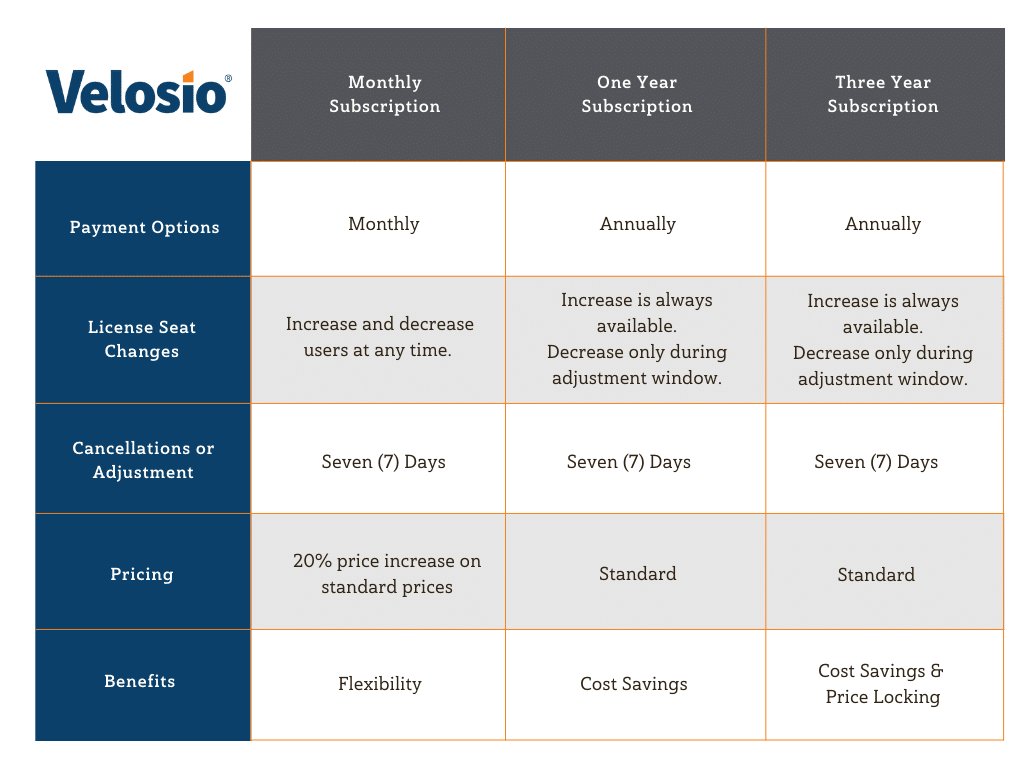 NCE Resources
Click a link below to access additional information
Option 1: Annual Subscription
Lock in today's pricing for the number of users you need for the entire year. You'll pay for your licenses as an annual subscription in one easy payment. Once your annual subscription is finalized, you'll be able to purchase additional licenses at a later date but will be unable to decrease licenses until your annual renewal time period.
Option 2: Flexible Subscription
Microsoft is offering an option that will let your business keep the same monthly subscription model you are used to, with the ability to add and decrease user counts throughout the year. This option comes at a premium license cost which is 20% more than standard licenses.
Option 3: Hybrid Subscription
With this option, you're able to secure users at both the annual and flexible subscription. Lock in a lower rate for those users you know you'll need for the entire year and have the flexibility to add or remove users who won't need access to your systems long-term.
Will my company be automatically moved to New Commerce Experience?
When will New Commerce Experience be Available?
Do we have to move to the New Commerce Experience?
What is the cancellation policy for subscriptions on New Commerce Experience?
Will subscription terms auto-renew?
What are term options when purchasing on New Commerce Experience?
Is there a premium for monthly commitments?
Can I pay monthly for an annual commitment?
Can I pay monthly for a multi-year commitment?
What is the renewal date for newly added seats to a subscription on New Commerce Experience?
Can monthly term subscriptions be changed to annual term?
Are there price changes to the SKUs included in New Commerce Experience?
Your Guide to the Microsoft New Commerce Experience (NCE)
Microsoft has made the decision to update their Cloud Solution Provider (CSP) program to continue to adapt to the changing needs of their...
Read More
Microsoft 365 Pricing Changes Coming Soon
Microsoft has announced pricing changes for their Microsoft 365 (formerly Office 365) solutions. The first substantive pricing update since Office 365 was launched...
Read More