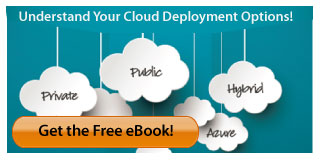 Choosing the right ERP software for your organization can be a long and arduous process when done correctly. Once you have selected the system you need, the process is not over. The next step is to decide on a deployment method that fits within your financial and technological limitations. At one time, an on-premises deployment was viewed as the only viable solution for a major software implementation, but now there are several cloud models that can benefit your business. Microsoft's Azure cloud platform is one model worth considering.
What is Windows Azure in the Cloud?
In short, the Azure Cloud solution is Microsoft's open cloud application platform, allowing companies to build, deploy and manage various Microsoft applications across a global network of data-centers. Azure allows developers to build applications in any language and integrate those within their current IT environments, providing the ability to reliably host and scale business operations.
Because you may need to purchase or upgrade server hardware and also maintain it yourself, on-premises software often requires a lot of money upfront, which may be just fine for larger organizations with sufficient capital expenditures. Small and mid-sized businesses may not have the resources to pay for on-premises software, and even some larger businesses may decide not to budget for it. They might also not have the infrastructure, IT staff or other resources necessary for on-premises deployment.
Perhaps the most popular method of cloud deployment is Software as a Service (SaaS), where the user pays a monthly fee for read-to-use cloud applications. An alternative to this is called Platform as a Service (PaaS), which provides an entire platform rather than a single application. For example, if you want to run Microsoft Dynamics GP or Microsoft Dynamics NAV, you can now do it all from the cloud with quick, ready-to-deploy apps in Windows Azure Marketplace.
Like on-premises and hosted options, Microsoft Dynamics NAV and GP are still available exclusively through Microsoft partners, even when hosted on Windows Azure. What is different is that you get a robust, secure Windows Azure Virtual Machine and avoid the hardware and infrastructure costs associated with on-premises deployment. It is a smart and affordable alternative.