Before you can have a portal there are a few requirements, so I'll assume that the follow statement is true. There is already an instance of Dynamics 365 Customer Engagement (CE) setup as that is a requirement for having a Dynamics 365 customer portal, preferably with an online deployment. During your Dynamics 365 CE installation, deployment, configuration, and import it is time to think about your customer and how your customers are going to interact with your organization processes, data, and more.
There are many types of portals that Microsoft Dynamics 365 CE provides, however I will only cover general concepts here and I will cover the specific portal types in another part of the series.
The benefits of having a Dynamics 365 customer portal include:
A branded experience that allows external users to have a greater appreciation for your customer-related processes
Surfacing the correct internal CE data to the correct external users at the correct time
Surfacing the organizations internal processes, workflows, notifications and more to the correct users at the correct time
Providing an efficient single point of interaction to manage support cases and provide notifications to external users about case status and case process updates requiring additional attention
Providing a single location to share knowledge with external users about case issues and resolutions
Surfacing internal case resolutions to address cases before they are opened thus having an acceptable level of case deflection
Providing an opportunity for your customers to self-help through the use of forums, blogs and ideas
And many more.
Below you can see an example of a Dynamics 365 customer portal you may set up.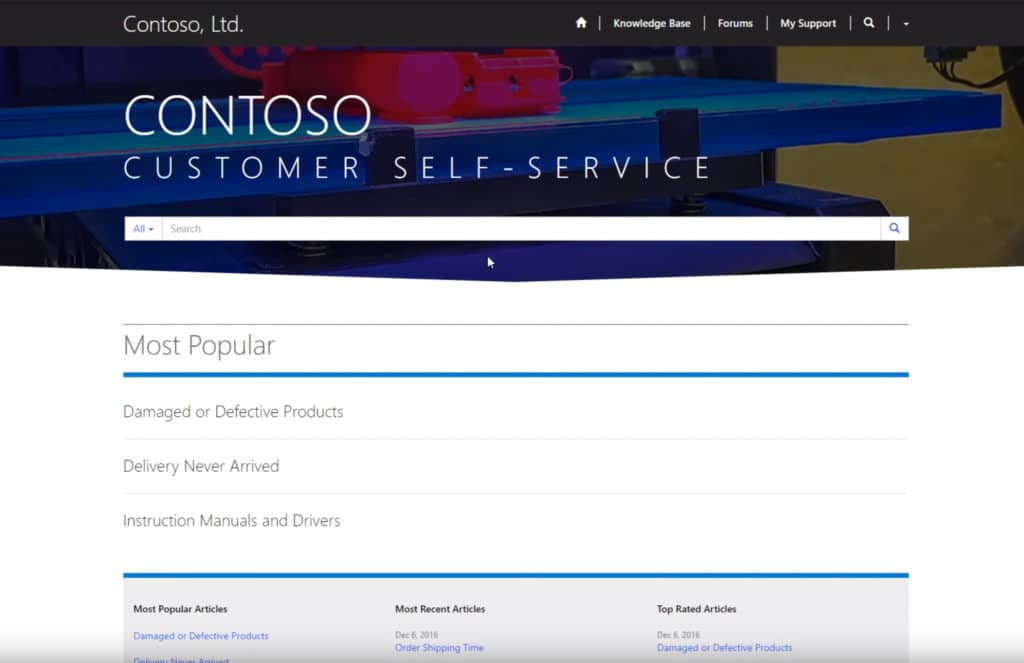 As you are planning your project with Microsoft Dynamics 365 CE, it is important to think about how your customers are going to interact with your system. Do you want to allow community features such as forums and blogs, if so who is going to maintain them? There should be a continuous effort to consider who is going to maintain features and updates to the system and the Dynamics 365 customer portal if chosen.
If you have questions about setting up your Dynamics 365 customer portals, or other Dynamics 365 CE questions, reach out to our expert consultants today.