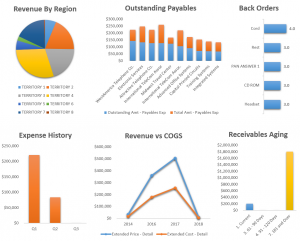 Custom reporting for Microsoft Dynamics GP can be tedious and lead to performance bottlenecks and high IT costs.  However, there is a simple way around it within Dynamics GP.
Analysis Cubes for Excel, which is included in the Microsoft Dynamics GP Starter Pack, enables you to significantly improve your ability to analyze and report financial data, and share information across your organization.   They unlock your vital business data and give you the ability to view the information you need in the format you prefer, analyzing data from multiple angles.
With a quick installation and configuration, Analysis Cubes can be used to slice and dice GP data, spot trends and perform analysis that couldn't easily be accomplished with the built-in reporting options.  The best thing about GP Analysis Cubes is that you can access them outside of GP with familiar tools like Microsoft Office Excel and SQL Reporting Services.
In this quick demo, I'll show you how to create a corporate dashboard in Excel using the GP Analysis Cubes.
Since GP Analysis Cubes creates a data warehouse, it can also serve as an easier reporting platform for end users. GP Analysis Cubes leverage SQL Server technologies, so they can also be customized.
We've put together a services package to help you get started using Analysis Cubes quickly and easily.  We'll install and configure your Analysis Cubes module, setup client tools and provide on-site training all for a fixed fee of $2950.  Get started with Analysis Cubes today!