Dan Studzinski's new role is effective immediately after previously holding the position of Vice President of Small and Medium Business Sales (SMB) – North America at SBS Group.
EDISON, NJ (PRWEB) MAY 11, 2016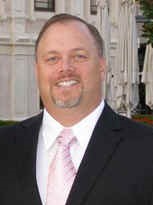 Information technology innovator and leader SBS Group announced the promotion of Daniel Studzinski to Vice President of Sales – North America. The announcement was made by James Bowman, President and Chief Executive Officer of SBS Group.
"Daniel's commitment to the customer and insight to plan for their future needs is only second to the values and character he embodies, which we share with him here at SBS Group. His experience and strategic vision will enhance our business moving forward," said Bowman.
Studzinski joined SBS Group in the beginning of 2015 as the Vice President of Small and Medium Business (SMB) Sales – North America. In his first year at the company, he led the SMB sales team to a 35% increase in sales. With over 20 years of industry experience, Studzinski's strategic thinking and planning foresight made him a fit for the current promotion. Prior to joining SBS Group, Studzinski served as Senior Director of Sales – North America at Infor Global Solutions. While in that role, he was responsible for leading the sales team to a 257% increase in sales over a 5 year period. Before Infor, Studzinski previously held positions at Beroe Inc., Activant Solutions Inc. and Prophet 21. He is a graduate of West Virginia Wesleyan College where he earned his bachelor's degree in marketing.
As Vice President of Sales – North America, Studzinski will assume leadership of the company's enterprise sales efforts while continuing to oversee small to medium business sales operations and carrying out SBS Group's strategic vision.
About SBS Group
SBS Group is a national Microsoft master VAR (Value Added Reseller) with Gold level competency in enterprise resource planning (ERP) and customer relationship management (CRM). Over the past 25 years, they have been recognized as Microsoft Partner of the Year, Inner Circle Member and Microsoft President's Club member multiple times. The company is headquartered in Edison, New Jersey and operates offices across North America. For more information, please visit SBS Group's website at http://www.sbsgroupusa.com. Follow us on LinkedIn at http://www.linkedin.com/company/sbs-group, on Twitter at http://www.twitter.com/sbsgroup and find us on Facebook at http://www.facebook.com/SBSGroupUSA.