A collection box was filled with clothes and supplies at SBS Group's corporate office in Edison, NJ.
EDISON, NJ (PRWEB) SEPTEMBER 14, 2016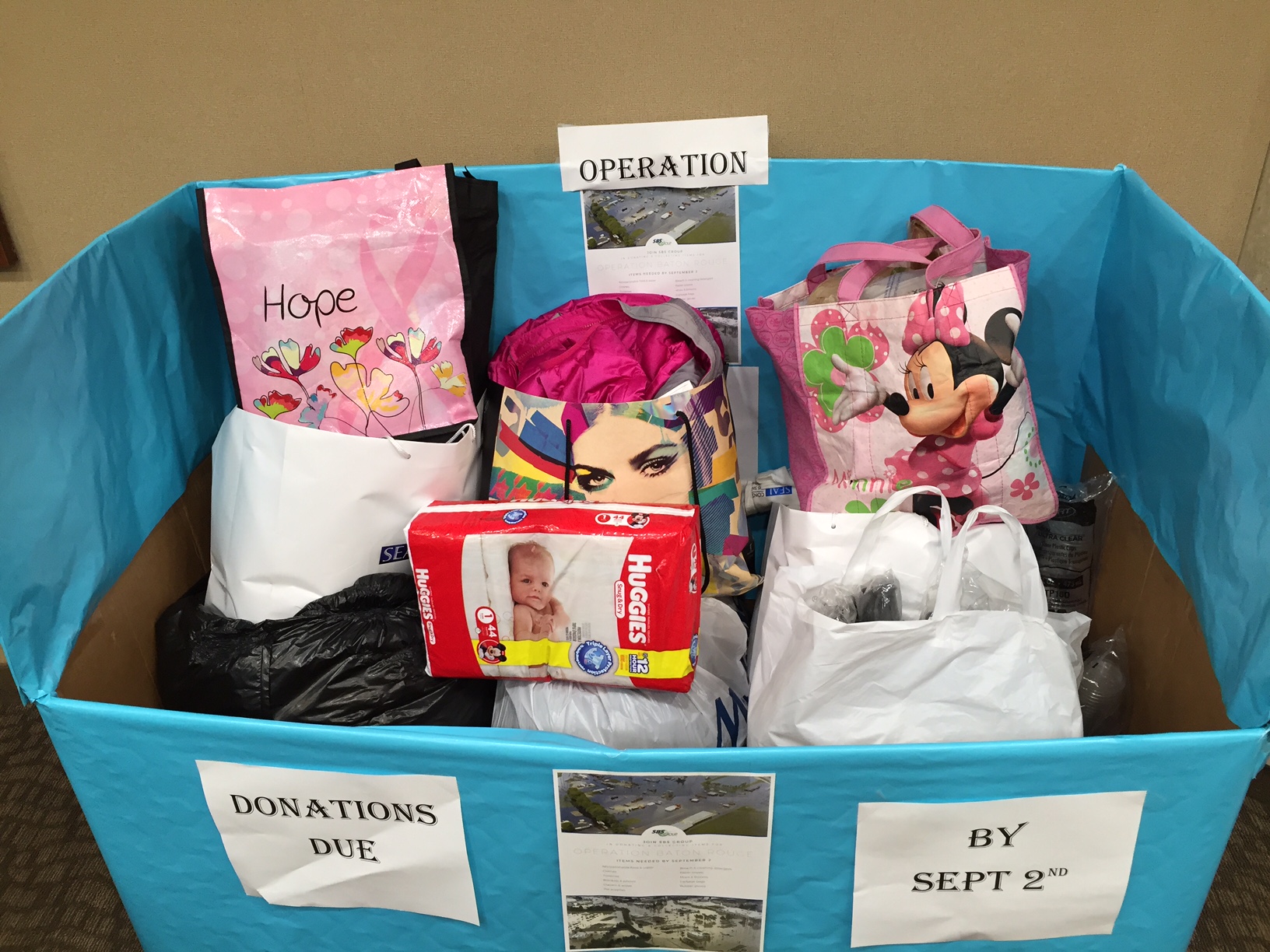 SBS Group, a leading information technology firm, donated clothes and other supplies to the American Red Cross in support of the Louisiana Flood victims. SBS Group is headquartered in Edison, NJ with over 40 offices throughout North America including New Orleans, LA.
The donation efforts were spurred by members of SBS Group's Social Committee as a way to show support and solidarity for those impacted by the floods. SBS Group encouraged its employees and employees of other companies in the 105 Fieldcrest Avenue office building to donate clothes, toiletries, cleaning supplies and other useful items. Additionally, SBS Group's remote employees from other areas of the country were encouraged to drop off donations at their local American Red Cross. Some of the items donated included t-shirts, diapers, gloves, blankets and jackets. The American Red Cross picked up the donations on Friday, September 9, 2016.
The Louisiana Flood occurred in August 2016 after a prolonged period of heavy rainfall. This precipitation resulted in the flooding and submerging of thousands of cars, homes and businesses. The event is the worst natural disaster on U.S. soil since Hurricane Sandy.
To donate to help support the Louisiana Flood victims, visit http://www.redcross.org/donate.
About SBS Group
SBS Group is a national Microsoft master VAR (Value Added Reseller) with Gold level competency in enterprise resource planning (ERP) and customer relationship management (CRM). Over the past 30 years, they have been recognized as Microsoft Partner of the Year, Inner Circle Member and Microsoft President's Club member multiple times. The company is headquartered in Edison, New Jersey and operates offices across North America. For more information, please visit SBS Group's website at http://www.sbsgroupusa.com. Follow us on LinkedIn athttp://www.linkedin.com/company/sbs-group, on Twitter at http://www.twitter.com/sbsgroup and find us on Facebook athttp://www.facebook.com/SBSGroupUSA.
---
To full view full release, click here.