Over many years and countless conversations with field services clients, we've found the drivers behind these businesses incredibly compelling.
For example, how they design their business models to drive performance and profitability – despite all of the moving parts in the mix: service techs and their time, of course, but also parts, labor, fuel, and the time and expense of repeat visits. 
And – if they already have a field service component in place, they may already be using financials or sales data to inform decisions about the services they offer, as well as pricing, scheduling, and optimizing business operations. 
Based on those conversations, our data platform services team put together a field services simulation model to measure the potential impact of specific improvements. In this short video, we go behind the scenes to give you a clearer picture of how this tool might be used to help field services orgs prioritize tech investments based on potential impact. 
Watch the full clip here to see it in action. Or, you can read on to learn more about the benefits "what-if" scenario planning brings to field services organizations. 
More about our Power BI for Field Services simulation
As you'll see in the video, our simulation tool is a lot like those credit simulators you might find on your bank's website. You know, the ones that show you how, say, paying your bills on-time or reducing your credit utilization will impact your credit score after six months, a year. The idea is, you can prioritize certain debts based on their impact. 
The Power BI simulator allows field services teams to estimate the impact of improving different aspects of their business model.  
For example, how might enhanced scheduling help an HVAC company install just one more AC unit per day? And, how might that then increase resource utilization rates, customer satisfaction, and ultimately, long-term profitability?
What if you were able to reduce return visits by say, 10% or 20%? Or reduce the cost of parts? How might those improvements impact total gross margins long-term? 
Unlike your personal credit simulator, this one draws from a wide range of variables – many of which fall outside of your company's control. Scheduling and dispatch management, for example, subject to unexpected service calls, whether the right parts are in stock, and resource availability. Inventory management depends on things like the state of the supply chain or customer demand. 
As such, it's crucial that you're working from a unified system capable of analyzing real-time project management, sales, and financial data along with customer behaviors and preferences, market conditions, and other external forces. 
Our simulator aims to make it easier for field services orgs to make smarter decisions about how to run their business.   
Power BI consolidates data from various sources in Microsoft Dataverse to generate unique insights that can be accessed in Dynamics 365 Finance & Operations, Business Central, as well as apps like Teams and Outlook. So, you can use insights from the simulator to start a discussion about potential improvements via Teams. Or – you might embed them in key financial reports so they can be used to inform budgeting or staffing decisions.  
The list goes on, but the point is, this type of "what-if" scenario planning needs to happen in context with the rest of the business – otherwise, you're wasting your time.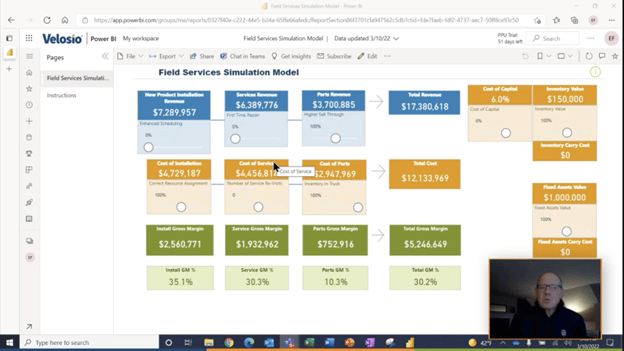 Final thoughts
Our Power BI simulation for field services was designed to help field services organizations of all shapes and sizes improve their business and get ahead of the challenges inherent to this space. 
All of our clients had different drivers that pushed them to look toward the Power Platform in the first place – be it cost-savings, improved capacity planning, or preventing customer churn. However, the one thing they had in common was that they used the simulator to enhance their existing data strategy. 
Head over to our YouTube channel for a behind-the-scenes look at more Microsoft apps, integrations, and another Velosio creation, the PowerApps Newsfeed for Teams. 
Learn more about all the features of Power BI and how they can help your organization.