One of the most common questions we've heard from professional services companies lately is: What the heck is Microsoft Dynamics 365 for Project Service Automation (PSA)?
Microsoft Dynamics 365 for Project Service Automation is a Microsoft Dynamics 365 for Sales (CRM) solution. It helps professional services companies run their business more productively by bringing people, processes, and automation technology together through a unified experience. PSA is a powerful addition to Dynamics 365 that enables project management capabilities in Dynamics 365.
Simply put, Microsoft Dynamics 365 for PSA unites opportunity management with project planning and management. After the sales and planning stage, Microsoft Dynamics 365 PSA excels at handling resource management, team collaboration, time and expense management, customer billing and service analytics.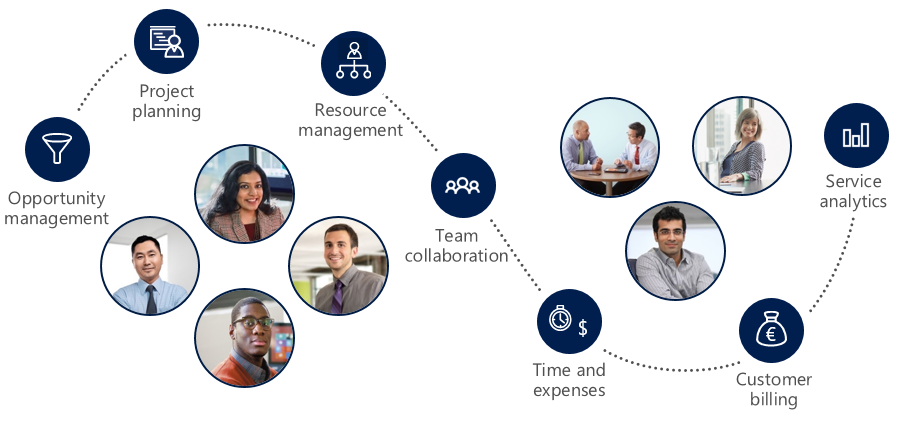 I guess the first pertinent question might be, why do I need PSA? After all, we already have Microsoft Project which is an advanced project management tool! Microsoft Project is a great tool for project managers and in some circumstances, might be the only tool you need, Microsoft Dynamics 365 PSA won't be for everyone! But you will find that Microsoft Dynamics 365 PSA has a slightly different focus, it is not "just" about project management. It is more focused on the engagement with the customer. By this I mean it covers the full life cycle of the project right from initial estimate to completion.
Velosio has partnered with hundreds of professional services clients to help them utilize technology solutions that lower costs, improve visibility and enable efficient allocation of resources. Our solutions for project-driven firms are:
• Microsoft Dynamics 365 PSA for companies with Microsoft Dynamics 365 for Sales (CRM)
• Progressus for small to medium sized companies
• AXIO for enterprise companies
All three products are based upon common data services, and interact seamlessly together, and with Microsoft Dynamics 365. Progressus and AXIO run on the back-office ERP side of the business, while Microsoft Dynamics 365 PSA is on the front-office CRM side of the business.
Interested in learning which solution is right for your company? Start a discussion with one of our business technology experts today. Contact us for a free evaluation.
Best Regards
Eric
About Eric Forgo

Eric serves as the Director of Business Intelligence and CRM for Velosio He is responsible for developing and driving innovative solutions, overseeing related services and ensuring Velosio customers derive maximum business value from their technology investments.

Eric has spent more than 20 years in the Microsoft ecosystem, holding executive positions with leading ISVs and consulting firms where he led teams in the deployment of Microsoft ERP and CRM. In addition to his technology background, Eric spent the early part of his career in financial management. He is a CPA with a BS in Accounting from the University of Connecticut and an MBA from Boston University with a concentration in Finance.