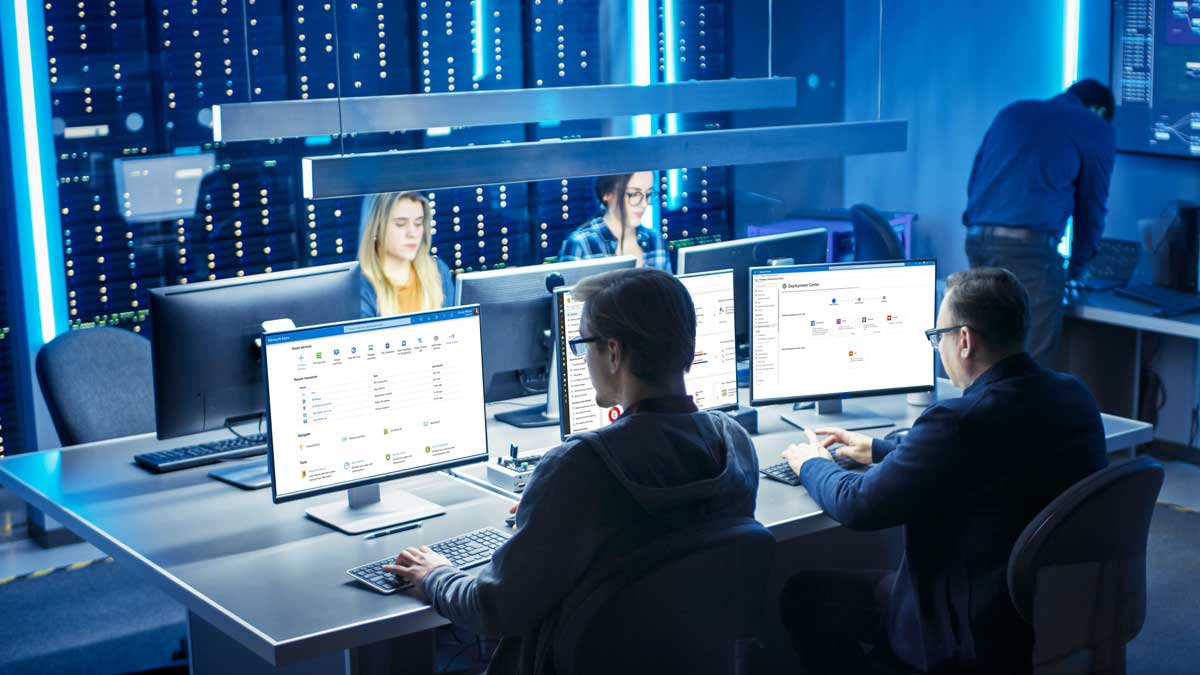 Velosio Cloud Operations
Flexible, Secure Cloud Operations to Simplify the Digital Journey
Missed Aspire22? - Not to worry! You can now access every session on-demand. Register now to unlock this exclusive content.
Improve Productivity and Resiliency with Velosio Cloud Migration, Hosting and Management Services
Velosio Hosting and Managed Services
Velosio provides our clients with a rich portfolio of cloud offerings and managed services, including modernizing the technology platform, migrating legacy applications and providing comprehensive managed services to ensure optimal performance, security and continuity.
Benefit from an entire ecosystem of resources, experts and services there to simplify your digital journey, deliver fresh ideas and help you to realize business value faster.
IT Managed Services

Keeping your IT environment running smoothly requires highly skilled team members and round-the-clock attention.

Velosio Managed Services lets you offload the support burden of desktops, servers, network maintenance, disaster recovery and even helpdesk support. Our team will manage traditional IT functions like security, backup, patch management and call center support so your team can focus on more strategic initiatives.

Our capabilities include:

End-to-End Lifecycle Support.
Network and Desktop Managed Services.
Managed Servers.
Cloud Continuity and Backup.
Cloud App Migration

Moving key workloads and traditional applications to the cloud is common, but the methodology for doing depends on a variety of factors.  Rehosting,   Replatforming, refactoring or even replacing apps entirely is a better alternative for some, depending on solution architecture and desired outcome after moving to the cloud.

Rehosting: Also known as "

Lift

and

Shift

" is a common strategy and in many cases is also the most cost-effective and least disruptive to the business, but it may not take full advantage of cloud-native applications.
Replatforming: Replatforming for the cloud involves making minor changes to an existing application so that it can better benefit from cloud architecture
Refactoring: In some cases, the right solution means re-coding major portions of an app so that it can take better advantage of cloud-native functionality.

Velosio migration and development experts can help you determine a strategy that aligns with your IT environment and business needs, reduces risk and limits disruption to your business.
Azure Cloud Hosting

Microsoft Azure is a powerful and flexible cloud platform that Velosio experts leverage to enable our clients to extend their infrastructure, build and deploy apps, manage data and storage, and unlock powerful business insights.

Azure cloud computing software is deployed across a global network of data centers that meet stringent privacy, compliance, security and performance standards from Microsoft. With Azure, organizations can access a broad collection of enterprise-class, integrated cloud services without investing in significant overhead.
Modern Workplace Management

Today, more than ever, you need to support a remote workforce and an increased demand for digital operations.  Microsoft 365 (previously Office 365), including Teams, SharePoint and other collaboration tools, is one of the most powerful tools in your arsenal, but even the most intuitive cloud solutions require well-executed management and support.

Velosio provides comprehensive services to help you maximize the value of Microsoft 365, including management of licensing, security, email and other core systems.  Our 24×7 helpdesk will ensure a fantastic user experience and rapid adoption across the company


"With Microsoft Azure, we have the agility and scale to react to project demands much more quickly. We could never do the types of jobs two years ago on premises that we do today in the cloud."
Greg Matuskovic: Director – Global Solutions Architecture, Insurance Consulting and Technology
Willis Towers Watson – Microsoft case study
Increased Reliability
Ensure your Azure environment is running optimally with real-time monitoring and 24×7 live call center support.
Seasoned Azure Experts
Depend on Velosio's certified cloud experts with years of experience managing enterprise-grade cloud solutions.
Stronger Security
Minimize risk with our secure cloud environment, automated backups and state-of-the-art security services that maximize the safety of your data.
Lower Cost of Ownership
Take advantage of Velosio's expertise, systems, and scale to realize lower operational and staffing costs.
Working With Velosio
Here at Velosio, quick, high-end services are the name of the game. We have a proven record of wins. Our experienced team consistently earns recognition as a top-performing Microsoft partner and has special skill sets in cloud migration with rehosting, refactoring and replatforming experience. We'll evaluate the unique landscape of your operation and implement the right cloud migration tools for your organization. Velosio is the fastest route to help your company enjoy more flexible and modernized operations.
Along with access to the expertise of our team, Velosio partners also enjoy a network of peers, events and external resources geared toward business growth. As an IT managed services company, we can help you take full advantage of cloud migration benefits and our Microsoft CSP programs with affordable services and support long after implementation.
Contact Us Today
To learn more about our cloud migration services and start seeing what's possible in the cloud, reach out today, and one of our skilled team members will be in touch!