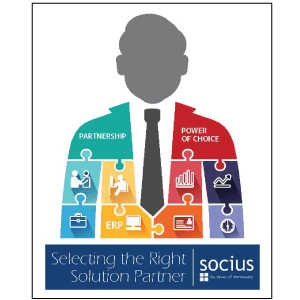 Why Companies Work with ERP Consultants in the First Place
According to a 2015 ERP study conducted by Panorama Consulting, seventy seven percent of companies implementing or updating ERP systems work with consultants for selection and implementation assistance.  These companies especially sought out consultants with industry specific expertise and experience.
The reasons for working with a consultant ranged from full management to turning around a failed effort. Twenty-four per cent of the companies surveyed used consultants to fully manage the implementation, 18% wanted unbiased selection advice, another 18% were seeking specific expertise to support their internal team, 17% wanted a strategic partner with industry specific expertise, 14% needed organization change support and 8% were seeking turn around assistance.
 eBook:
Selecting the Right Solution Partner
Failures Abound
As reported previously and you can easily find more instances with a simple Google search, the landscape is littered with failed ERP implementations and according to the Panorama report, organizations continue to struggle with missed deadlines and budget overruns.
According to their independent research over the past five years, over 53% of projects exceeded their budgets and 65% experienced schedule overruns.  Even more alarming, 53% of the over five hundred respondents to their survey reported that they failed to achieve even 50% of their pre-project objectives.
How Consultants Help
Working with an independent ERP consultant offers the following advantages:
A much higher probability of success because industry specific consultants have "been there and done that"
Save time and money due to specific expertise and experience – you avoid the pitfalls and overruns associated with poor planning and worse execution
Reduced risk of failure because the independent consultant has a contracted and vested interest tied to the success of the project
Ability to negotiate better terms because they know the vendors and know the rules of engagement
Choosing the Right Consulting Firm
With so many ERP consulting firms to choose from, it is difficult to choose the right one for your project. Here are suggestions on how to make your section because ultimately it is the WHO and not the WHAT that leads to a successful implementation:
Industry expertise and experience – Make sure your chosen consultant has demonstrated expertise and experience in your industry and has completed at least ten implementations for companies in the same industry as you and of a similar size
References – Ask for and talk to people who have direct experience with your prospective partner. Ask for one where it did not go well initially and understand how the consultant resolved issues
Know specifically WHO will work on your project – avoid companies who send in the "A Team" to sell and the "B Team" to deliver
Hold your consultants accountable – ensure that your partner has a quality assurance process
In the end, selecting the right system is actually the easy part of an ERP implementation or upgrade.  The challenge is finding the right consulting organization who will partner with you to ensure your project comes in on time and within budget.