SBS Group was named No. 42 on the list of Fastest Growing Firms.
EDISON, NJ (PRWEB) NOVEMBER 21, 2016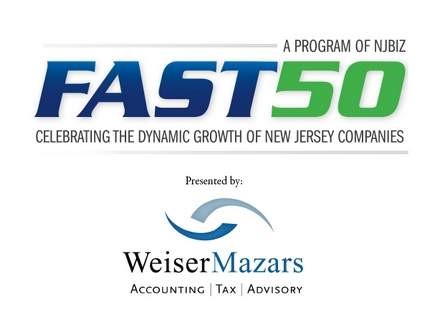 SBS Group has been ranked No. 42 on the list of New Jersey's 2016 50 Fastest Growing Companies. The award program produced by NJBIZ, New Jersey's premier business news publication, was presented by WeiserMazars LLP sponsored by UnitedHealthcare, Archer Law, M&T Bank, iPlay America and Wilmington Trust.
NJBIZ and program sponsors honored this year's event and announced their ranking during an awards ceremony on Thursday, November 10, 2016 at The Palace at Somerset Park in Somerset, New Jersey. The Palace at Somerset Park hosted a multitude of attendees, where everyone came together to celebrate the great attributions of the fifty companies. The event began promptly at 8 AM for breakfast and was followed by remarks and the awards presentation.
"Our clients continued trust along with the dedication of our team members has enabled us to continue to be one of New Jersey's fastest-growing companies," said James R. Bowman, President and CEO. "As companies navigate their digital transformation journey and our work with Microsoft's leading technology portfolio including Dynamics 365 we expect our growth trend to continue."
The NJBIZ 50 Fastest Growing Companies awards program celebrates New Jersey's most dynamic companies who progressively contribute to the success of the state's economic growth and stability. To qualify, companies had to meet selection criteria that included a revenue size of at least $500,000 within the past two out of three years and revenue growth over a three-year period, dating from fiscal year 2013 to 2015. Presenting sponsor, WeiserMazars LLP, calculated the nominations and ranked the companies according to revenue growth over the three-year period. Both dollar and percentage increases were taken into consideration.
For more information about the NJBIZ 50 Fastest Growing Companies awards program, please visit http://www.njbiz.com/events.
About SBS Group
SBS Group is a national Microsoft master VAR (Value Added Reseller) with Gold level competency in enterprise resource planning (ERP) and customer relationship management (CRM). Over the past 30 years, they have been recognized as Microsoft Partner of the Year, Inner Circle Member and Microsoft President's Club member multiple times. The company is headquartered in Edison, New Jersey and operates offices across North America. For more information, please visit SBS Group's website at http://www.sbsgroupusa.com. Follow us on LinkedIn at http://www.linkedin.com/company/sbs-group, on Twitter at http://www.twitter.com/sbsgroup and find us on Facebook at http://www.facebook.com/SBSGroupUSA.
---
To read the full release, click here.