SBS Group was named No. 36 on the list of Fastest Growing Firms.
EDISON, NJ (PRWEB) OCTOBER 20, 2016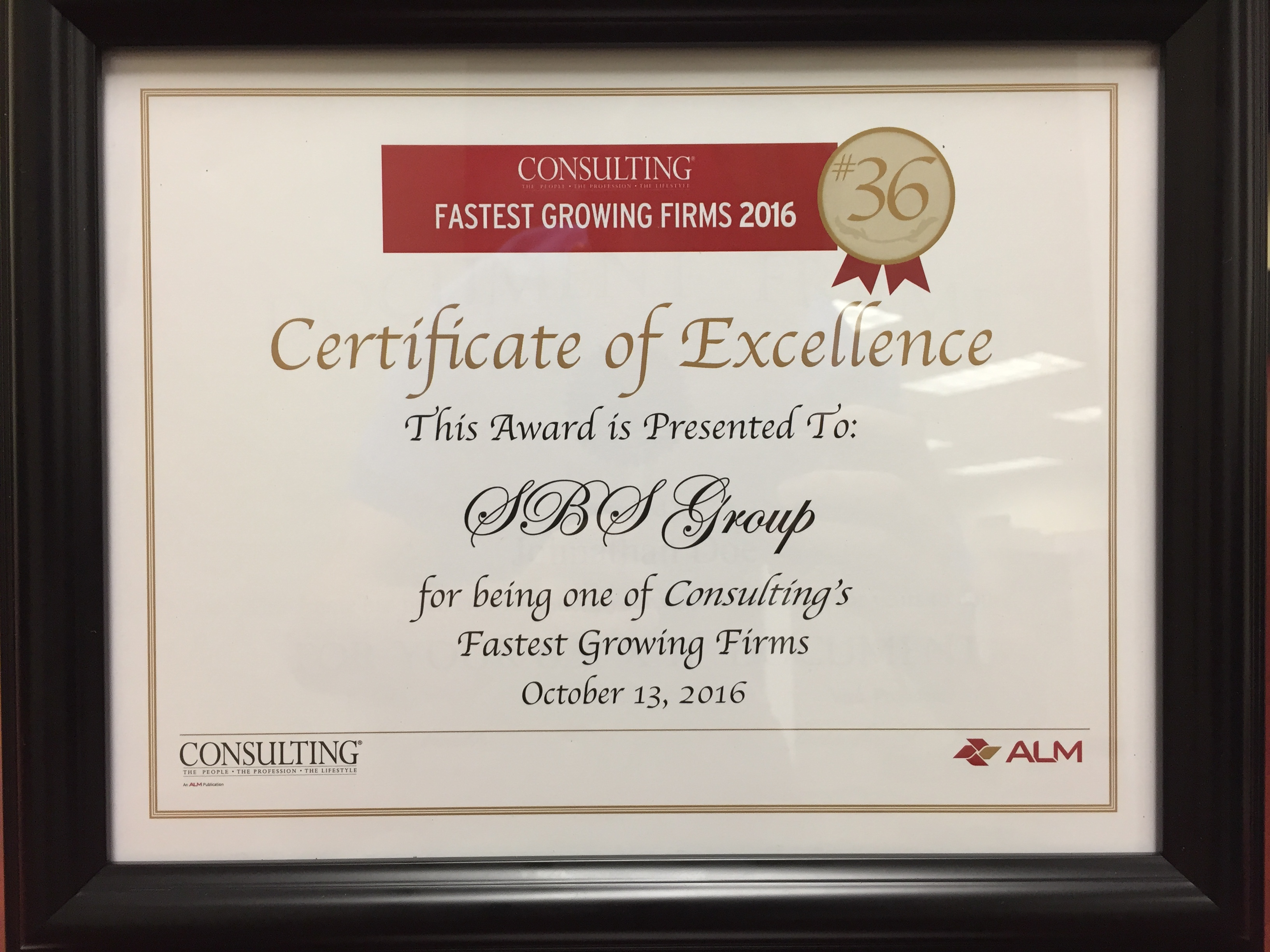 SBS Group, a leading technology firm and industry innovator, was selected by ALM's Consulting Magazine as one of the fastest growing firms in the consulting industry. At the Inaugural Awards Gala at the Roosevelt Hotel in New York City on Thursday, October 13, 2016, SBS Group was named as the No. 36 Fastest Growing Firm.
Selection as a Fastest Growing Firm is attributed to SBS Group's commitment to evolution and expansion. As evidence, SBS Group has experienced a three-year growth rate of 103%. This growth rate is a direct result of SBS Group's focus not only on accounting and ERP solutions, but also business intelligence, customer relationship management (CRM) and cloud technology spaces. Over the past year, SBS Group has launched a cloud marketplace (shop.sbsgroupusa.com), built new cloud solutions and positioned themselves to take advantage of the new release of Microsoft Dynamics 365.
"To be honored as a Fastest Growing Firm by Consulting Magazine is a great testament to our commitment to evolve as a business," remarked James Bowman, President and CEO of SBS Group. "The impending release of Microsoft Dynamics 365 signals a major opportunity for us to continue our growth by delivering innovative, cloud-based business management solutions to the market."
This year, 61 firms qualified for the ranking, which requires a minimum growth rate of 20 percent to be eligible. The Fastest Growing Firms will also be featured on http://www.consultingmag.com, as well as in the November issue of Consulting Magazine.
"With off-the-charts growth, there's absolutely no doubt these consulting firms are shaking up the industry from the bottom up—they are the profession's Fastest Growing Firms for 2016," says Joseph Kornik, Publisher & Editor-in-Chief of Consulting magazine.
About SBS Group
SBS Group is a national Microsoft master VAR (Value Added Reseller) with Gold level competency in enterprise resource planning (ERP) and customer relationship management (CRM). Over the past 30 years, they have been recognized as Microsoft Partner of the Year, Inner Circle Member and Microsoft President's Club member multiple times. The company is headquartered in Edison, New Jersey and operates offices across North America. For more information, please visit SBS Group's website athttp://www.sbsgroupusa.com. Follow us on LinkedIn at http://www.linkedin.com/company/sbs-group, on Twitter at http://www.twitter.com/sbsgroup and find us on Facebook at http://www.facebook.com/SBSGroupUSA.
About Consulting Magazine
Consulting® magazine is the flagship publication of the consulting profession featuring the latest information on consulting careers, thought leadership and corporate strategies. In addition to providing industry insights, Consulting® hosts award dinners as part of our Achievement Awards series – honoring Women Leaders in Consulting, The Top 25 Consultants, Social & Community Investment and Rising Stars of the Profession.
About ALM
ALM, an information and intelligence company, provides customers with critical news, data, analysis, marketing solutions and events to successfully manage the business of business.
Customers use ALM solutions to discover new ideas and approaches for solving business challenges, connect to the right professionals and peers creating relationships that move business forward, and compete to win through access to data, analytics and insight. ALM serves a community of over 6 million business professionals seeking to discover, connect and compete in highly complex industries. For more information, visit http://www.alm.com.
---
To read the full release, click here.