Marketplace demonstrates SBS Cloud leadership in the Microsoft Dynamics Community.
Edison, NJ – May 24, 2016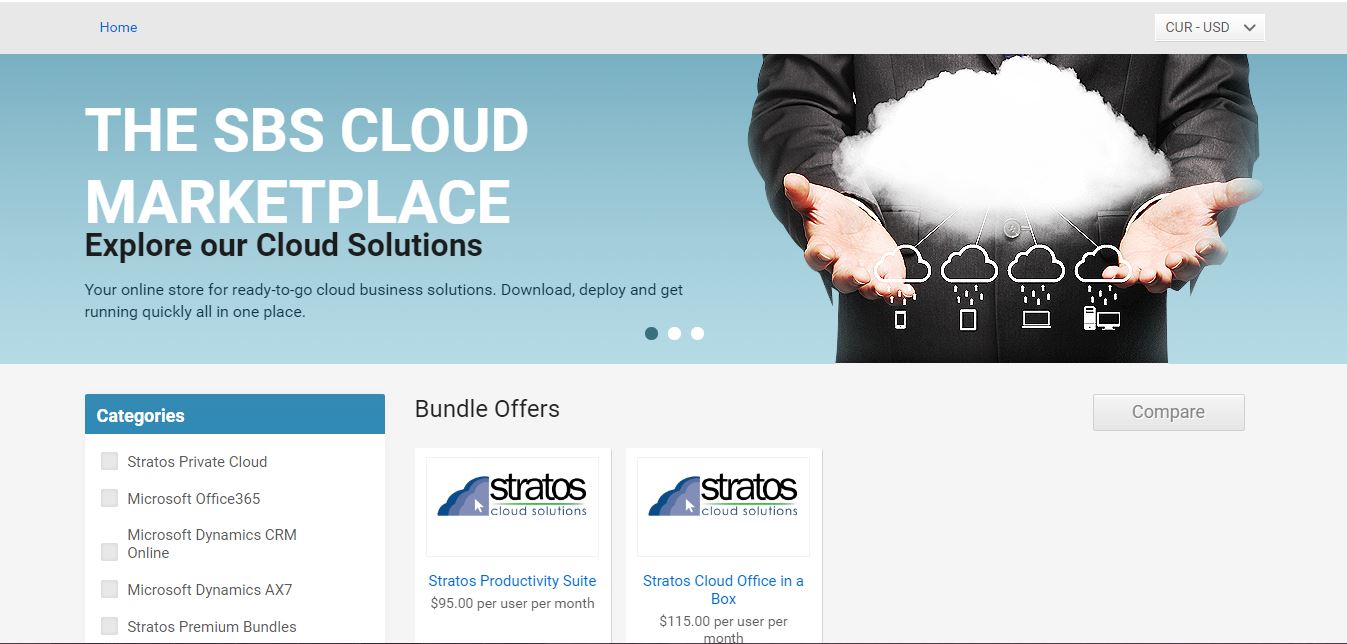 SBS, a leader and innovator in the information technology industry, announced today the expansion of their cloud services and the launch of their online Cloud Marketplace. The marketplace is accessible and officially open at shop.sbsgroupusa.com.
The SBS Cloud Marketplace is available for customers and prospective buyers to browse SBS Group's expanded cloud solution offerings. From its Stratos Private Cloud offerings to Microsoft's complete cloud portfolio including Azure as well as other cloud services, the marketplace enables clients to manage all of their cloud solutions from a single portal. Many services are provisioned automatically and clients can be up and running quickly. Clients can compare solutions easily with complete visibility into pricing, features and benefits.
"The SBS Cloud Marketplace demonstrates the continued innovation that we bring to our clients and prospects. It enables us, and our partners, to provide our clients with the most innovative cloud solutions in the industry and extends our growing cloud solutions business" said James Bowman, President and Chief Executive Officer of SBS Group.
The marketplace's user experience and interface is much like any online store's website. Visitors can browse solutions, click to learn more information and compare solutions side by side. From quoting to purchasing to support, the visitor is in control of their solution in conjunction with SBS Group.
"We are excited to publicly launch the SBS Cloud Marketplace. Our platform can help our customers launch their cloud journeys with us and make them feel more comfortable about considering cloud solutions to meet their needs. Many of our cloud solutions also include our Stratos Support platform which provides hundreds of learning tips'n'tricks, training vignettes and more to promote greater user adoption of our solutions," said Tyler Bowman, Global Cloud and Infrastructure Evangelist of SBS Group.
About SBS Group
SBS Group is a national Microsoft master VAR (Value Added Reseller) with Gold level competency in enterprise resource planning (ERP) and customer relationship management (CRM). Over the past 25 years, they have been recognized as Microsoft Partner of the Year, Inner Circle Member and Microsoft President's Club member multiple times. The company is headquartered in Edison, New Jersey and operates offices across North America. For more information, please visit SBS Group's website at http://www.sbsgroupusa.com. Follow us on LinkedIn at http://www.linkedin.com/company/sbs-group, on Twitter at http://www.twitter.com/sbsgroup and find us on Facebook at http://www.facebook.com/SBSGroupUSA.
---
To read the full release, click here.