By Alan Niergarth, an Ohio Sage MAS 90 and 200 software consultant for Socius
Perhaps you have noticed the Business Insights folder in the tasks menu but, haven't paid much attention.  You may be missing out on a big part of the results of the R&D from your Sage annual subscription dollars.  You've paid for it.  Maybe it's time to take a look.
Open the Business Insights – Explorer folder and you'll see the list of available "views" for accessing your data.
Beginning with Sage MAS90 4.2 these views became available from the "Explore" folder for each applicable module, also.  The view may be opened from either location.  They may also be placed on your shortcut task menu or launcher bar for quick access.
The real power of the views lies in a few key features that enables you to:
easily apply data filters to view just relevant information
easily export the resulting data to Excel or printed reports
conveniently save the tailored view with applied settings for future use
Let's face it.  Many of us have years of data stored in Sage MAS 90 and thousands of records for each module.  We don't want to see it all each time we look.  Here are a few tips for setting up your Explorer Views to yield efficient results:
First time use:
Explorer will automatically try to load all corresponding data for the selected view.  For example; ALL GL transactions for ALL dates for EVERY GL account.  Not only is this more information than you probably want or need, you will undoubtedly receive a message to the effect you have reached the maximum number of rows.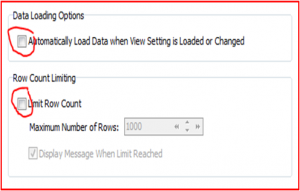 Click "yes" to open the options window.  It will open to the "Data" tab.  I like to uncheck the "Automatically Load Data.." feature and uncheck the "Limit Row Count" feature.
Here's why.  When the view opens and the "Automatically Load Data" box is unchecked, the view will be empty and open practically immediately.  It is "waiting" for the filters that you wish to apply for that viewing.  You then may set your data requirements (filters) if it is a new view, keep or change the requirements if it is a saved view.  Simply clicking the "refresh" button will populate the view with your selected data.  Keeping the "Limit Row Count" unchecked will ensure all the records for your selection criteria will be returned.  If you routinely perform views that return an unmanageable amount if information you may wish to fine tune your filters.
Apply a filter:
Learn how to use the "Filter Builder" to select the information you wish to see.  For Example:  Current open invoices for all customers in California and Wisconsin grouped and totaled by salesperson.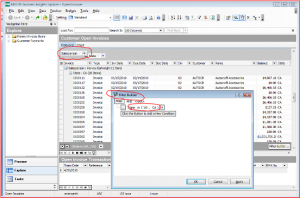 You can then view it in itemized detail like above or summarized with a couple of mouse clicks.

Here we see at a glance that Harvey has 20 invoices from his California customers with a total open balance of $1,044,153.81.  If his commission is distributed on paid invoices only, he may want to make a few calls.  He'll know exactly who to call using this information.
Export to Excel – As simple as three clicks: "File" "Export Option" "Microsoft Excel" Notice the export alternatives!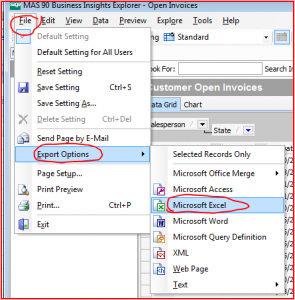 Here's Harvey's results in Excel:

The view has been created by the sales manager of California and Wisconsin, Gail.  Gail wants to save the view with the filters for future use.  Very simply create and save the setting name.  Choose to make it a private or public view.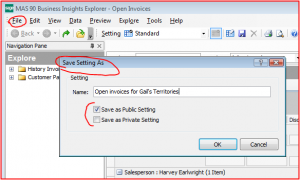 Of course, this was just an introduction highlighting use of Business Insights Explorer.  By experimenting with the features described you will begin to see the value in a new way of extracting relevant data from your Sage MAS90 ERP system.  A good thing to remember is that the views are "look but don't touch" – you cannot alter your live data through viewing it.  It is very easy to create a new view or add a filter and click "refresh" to observe the results.  If you don't like your choices for the view you have created there is always the "delete" button.