If you use FRx with your Sage MAS 90, 200 or 500 ERP software, you've no doubt heard that FRx is being phased out.  So where does that leave your business?  Although Sage has committed to supporting current FRx deployments until 2012, you will need a long-term reporting solution to bridge the gap.
While Crystal Reports and Business Insights Explorer/Reporter are still available to you, Sage has created Sage MAS Intelligence, powered by Alchemex, to give you valuable insight into your business data and operations, allowing you to make more effective decisions.  Sage MAS Intelligence will be available to MAS 90 and MAS 200 users in August and MAS 500 users shortly there-after.  Leveraging Microsoft Office Excel, Sage MAS Intelligence enables you to create real-time automated reports with up-to-date and accurate information.
Sage MAS Intelligence has several tools to make your reporting and business intelligence customized to your unique business needs, including: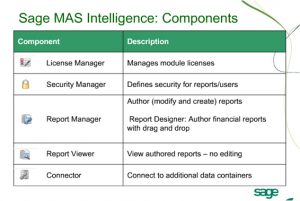 If you own FRx, you will automatically receive Sage MAS Intelligence Report Manager licenses when it becomes available.  Additional Report Manager licenses, Report Viewer, Connector, and Report Designer licenses will need to be purchased separately.
Contact Socius to learn more or for help integrating Sage MAS Intelligence into your Sage MAS ERP software solution.
Sample Dashboard: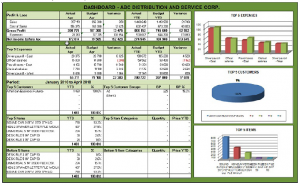 Sample Report: