For the second wave of 2020 updates, Microsoft has announced a rich, robust series of enhancements and new features to Dynamics 365 Marketing. Microsoft once again delivers updates that streamline the user experience.
Keep reading to explore 3 of these exciting Dynamics 365 Marketing features
Create and manage content-rich social media posts and easily monitor performance
The first enhancement that really stands out is the social media integration. As social media has evolved from a place to connect with friends to a bustling hub for businesses, it is more important than ever for organizations to reach potential customers in new ways. There are several ways to approach new outreach but if your organization is already using Dynamics 365, why not start there?
In this update, Microsoft introduces the ability to create social media posts directly from D365! Now, users can walk through a simple process to create content, push that content out, and monitor it.
With the ability to connect a Twitter account, Facebook account, or LinkedIn account, marketing teams can now post directly to these platforms. Posts can be published immediately or scheduled for a future date and time. This is a great way to generate content and have it automatically published. Again, this is all about streamlining the user experience.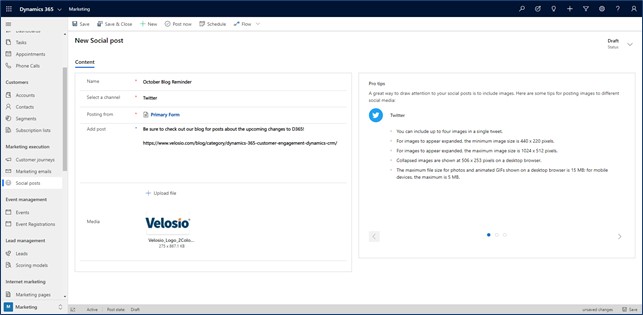 Create a new email and design its content
Continuing with the idea of easily creating content, Microsoft has enhanced the way emails are created in Dynamics 365 Marketing. A typical marketing team may be comprised of a variety of members with various skillsets. Those skills might require additional software and additional costs. With this enhancement, users can create and design custom emails through templates or from scratch. Newsletters can be created with different sections and formatted layouts. Users can add images, embed videos, and even add code!
In addition to creating content, insights are available to see how customers are interacting with that content. Once an email has been sent, you can see how many times it was opened, how many times someone clicked on a link in the email, how many times the email was forwarded, and more. And this is not one-time data, this is ongoing insight.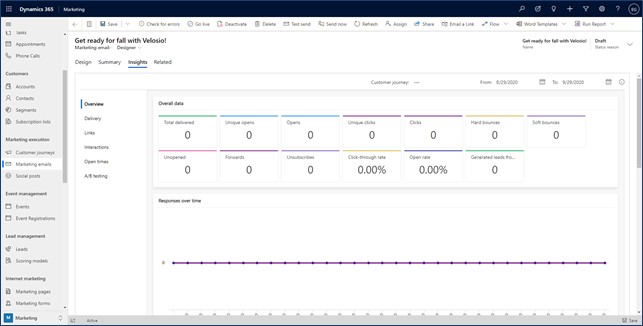 Build customer journeys more efficiently using the new canvas experience
The final piece we will explore is the redesigned customer journey experience. A popular change Microsoft has introduced to the Dynamics platform is the "canvas experience". From Canvas Apps to the Business Process Flow creator, users can now easily click and drag elements to create a custom process and easily layout customer journeys. This enhances your ability to plan interactions with customers and set certain actions based on how that interaction plays out.
In the image below, the customer journey is targeted at a specific subset of customers. The contacts are sent a marketing email, and the insights from that email determine what happens next. If a customer clicks on the email, a lead can be created and the sales team jumps in. Or an activity could be created to follow up with that customer. A customer journey can be created from scratch (as the canvas name suggests) or templates are available. This is just another way Microsoft is making Dynamics 365 Marketing even better!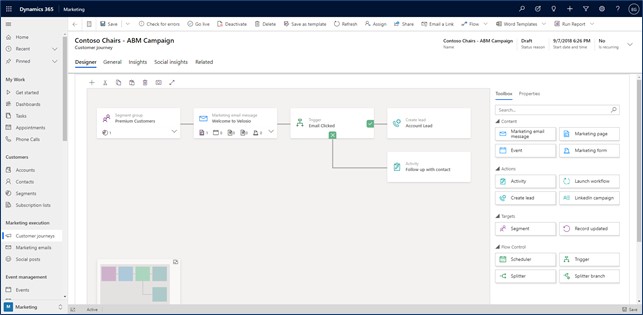 These enhancements are just a few of many that Microsoft has included in the Wave 2 2020 Release for Dynamics 365 Marketing. If you are interested in learning more about the new release, or any other Dynamics 365 features, connect with a Dynamics 365 consultant today!