Managing resources is vital in all the operations of a marketing or ad agency, but is particularly pressing when it comes to IT. With so many systems needing attention and time, any increase in efficiency or cost savings can be vital for a marketing firm. NetSuite offers you tools to do exactly that.
The most obvious and immediate savings is provided by NetSuite's cloud-based ERP solutions. Without NetSuite you would be paying to buy and maintain costly servers for financial management, operations, and data analytics, but Netsuite gives you the ability to handle all that from a cloud-based resource. Not only do you save capital on buying the servers, it also completely eliminates upkeep and maintenance expenditure. It's hard to overlook a 100% savings in any department, let alone in something as vital as IT.
Get a complete list of "Before and After NetSuite" KPIs for Agencies here!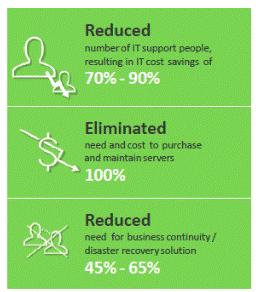 Moving IT services to NetSuite's cloud also provides savings by vastly decreasing the need for on-site IT support staff. With the solution to most problems being in NetSuite itself, the number of staff can be reduced, in some cases by as much as 70%-90%. The staff that is needed is also aided by the increased speed and efficiency provided by NetSuite's IT solutions. Solutions to problems can be implemented faster and easier than with on-site service, allowing staff to handle more problems in the same amount of time.
Netsuite also helps cut out the costly and complicated business continuity and disaster recovery solutions. Where without Netsuite the your agency would be responsible for both business continuity and disaster recovery in-house, with NetSuite these contingencies are handled for you. NetSuite's built in SaaS Solution help handle both continuity and disaster recovery situations, and its redundant data centers support the business suite and data centers at no additional cost to consumers, it's all included, offering a total savings in this area of between 45% and 65%.
By moving on-site systems to a cloud platform NetSuite saves money and increases efficiency, and its unique tools offer better ways to handle precarious situations. Combined with lowering upkeep and maintenance costs, NetSuite offers your agency unparalleled value when it comes to IT Departments.