Is your company using Microsoft Dynamics 365 CRM and in need of increasing your Sales team productivity? Are you in need of finding new leads? Do you need an easy way manage your territories? If you answered yes to any of those questions, then Maplytics may be the solution for you.
Maplytics is a leading CRM mapping tool that is certified for Microsoft Dynamics (CfMD), which indicates that the solution has met Microsoft's highest standard for partner-developed software. Maplytics is compatible with Dynamics 365 environments v8.2 and above, online or on-premise. This tool also supports Microsoft's Power Apps and Common Data Service as well as being compatible with Android, iOS and Windows Mobile devices.
Top 3 Maplytics features that can change the way your sales team operates
Route Planning and Optimization
Have you ever lost a sale because you were late to a meeting? Are you spending too much time planning your sales routes? With Maplytic's advanced mapping features, you never have to worry about that anymore.
Maplytics allows you to plot and map all your CRM data such as leads, accounts and contacts. You can quickly create a route from these plots and rearrange the route any way you would like. In addition, you can also modify and optimize the route to ensure you get to your destination on time.
Below are the various options to optimize a route.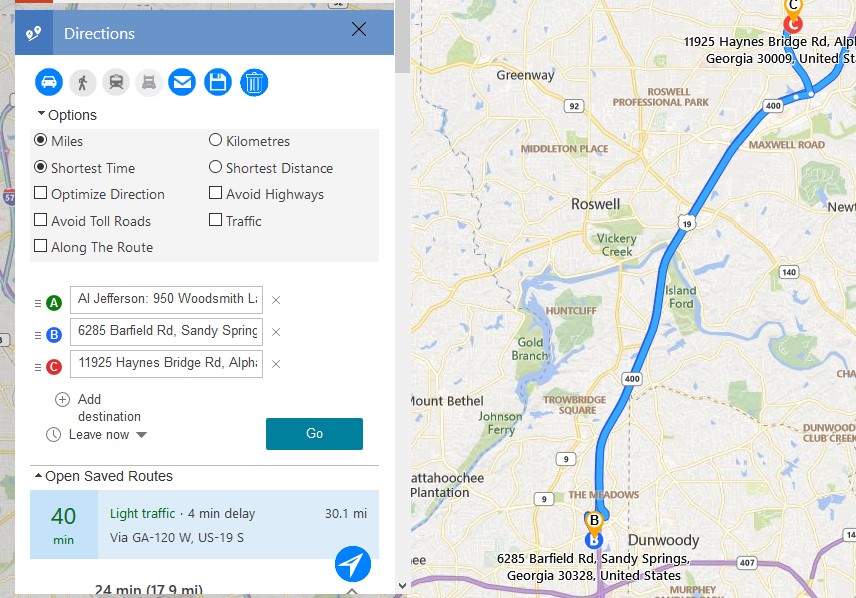 Once satisfied with your route, you can save the route to your Dynamics 365 CRM activities. It is recommended a user download the Dynamics 365 app from their respective mobile app store so they can use a navigation app to guide them through their route. Although Maplytics utilizes Bing Maps to map and plot in D365, you can use Google Maps or Waze to navigate a route from your mobile device.
Below is the same route that was created above, but in Google Maps!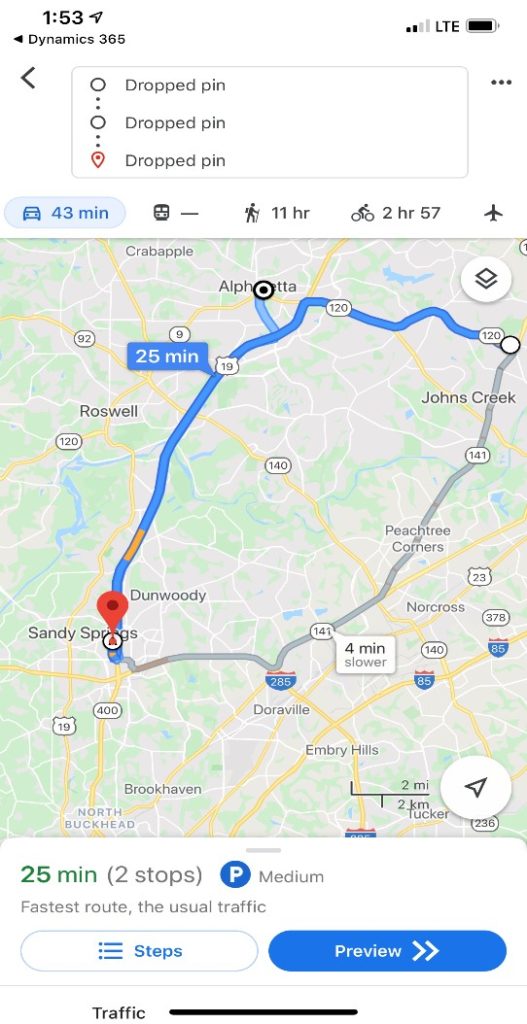 Lead Generation
Generating leads is one of the most important aspects to a business. Without it, a business can struggle to expand and make sales. With Maplytics, you can find and create leads with just a few clicks, all within Dynamics 365 CRM! In Maplytics, click the POI button and enter a keyword of the business you are interested in finding leads for.
In this example, we are looking for dentistries in proximity of Atlanta, Georgia.
Notice all the potential leads plotted on the map.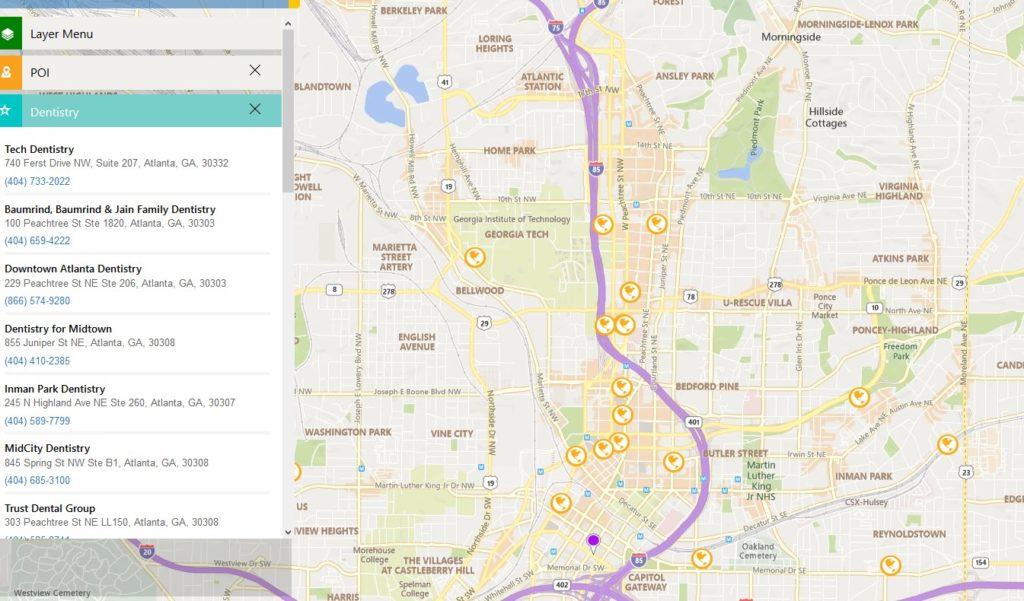 A sales rep can click on any of the potential leads and create a lead record in Dynamics 365 CRM and with this lead record they can and hopefully convert the lead into an opportunity and then a customer! Overall, with the Maplytics POI feature, you can save time scouting for leads and spend more time nurturing your leads!
Territory Management
To manage an effective team, you must be able to easily manage your territories. With the Maplytics territory management feature, you can do just that.
You can create/manage territories in Maplytics with 4 different methods:
By file

This allows users to plot excel and shape files that contain the geographical information of a territory. Once the file is uploaded, the user can save the territory directly into the CRM system.

By region

This method allows users to create new territories by city, state, county, country, or zip code.

By drawing

This method allows users to create territories using custom shapes! This will be touched upon more later in the blog.

By territory

This method allows users to plot existing CRM territory data on a map for the purpose of modifying a territory.
Below details one of Maplytic's amazing features, creating a territory from a drawing. For this scenario, let's say you're a sales manager for the state of Georgia and you'd like to create a territory for North Georgia.
For this example, we start off with the state of Georgia plotted on a map.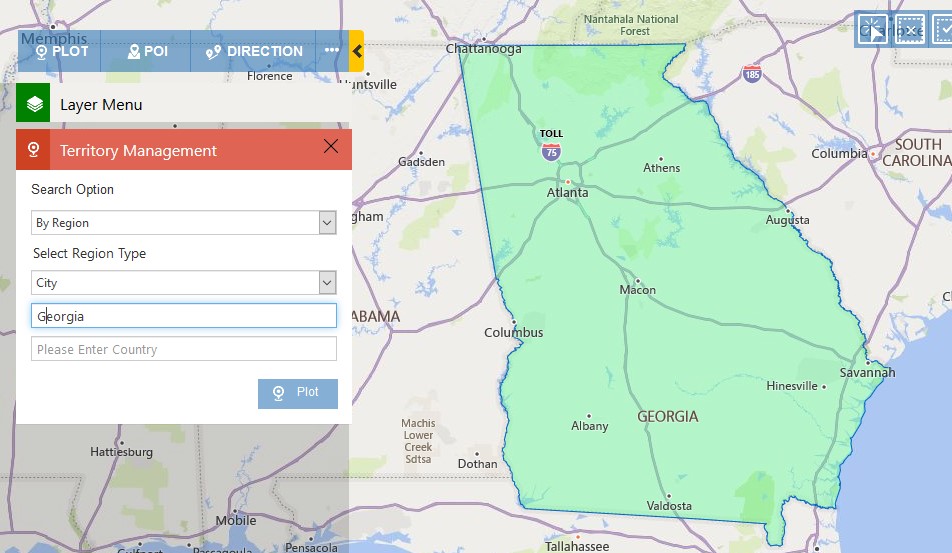 Next, we can use the Free Hand Drawing tool to roughly draw and create a North Georgia territory. This is up to the discretion of the user where to draw the line.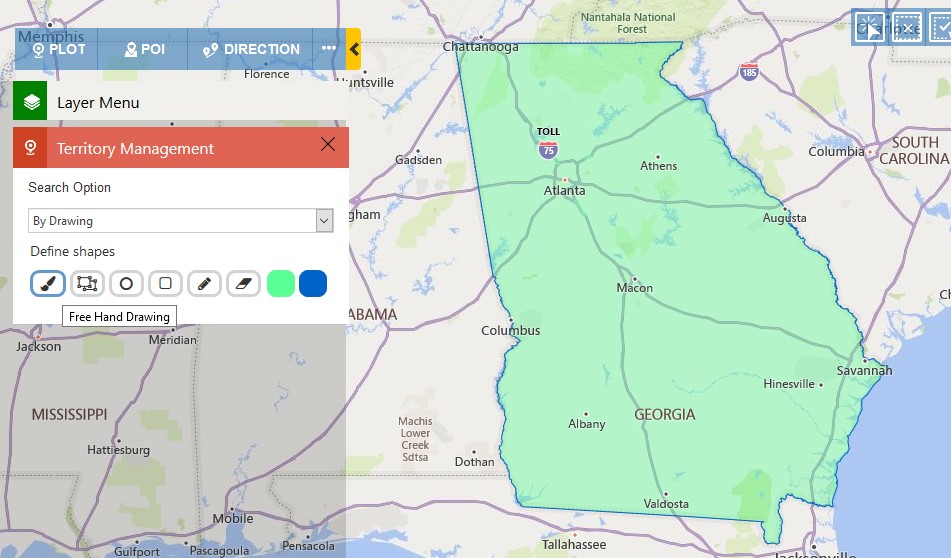 Now that we created a rough sketch of North Georgia using the Free Hand Drawing tool, we can now create a territory in Dynamics CRM.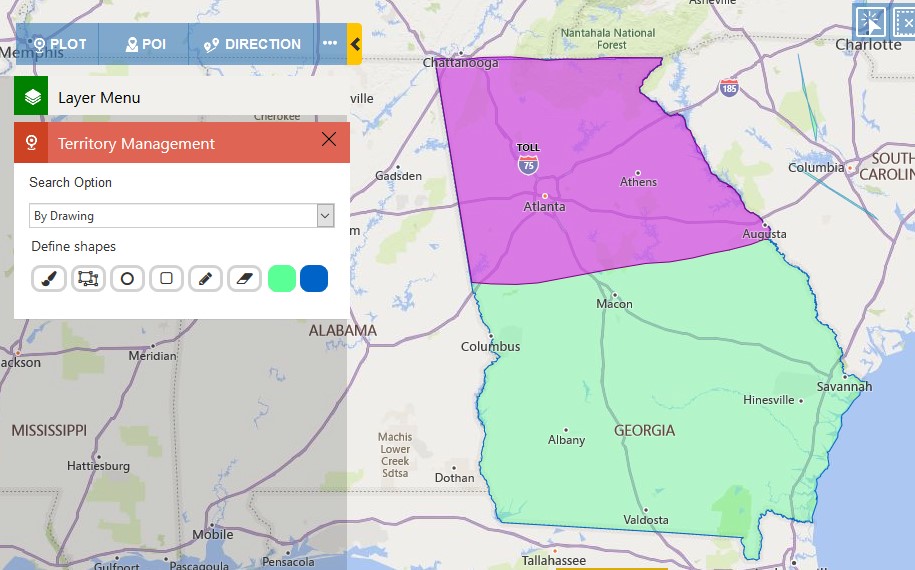 You simply need to right click on the hand-drawn territory and select Create New Territory. You have an option to add this drawing to an existing territory or create a new one. In this case, a new territory will be created called North Georgia. You can even specify the manager of this territory.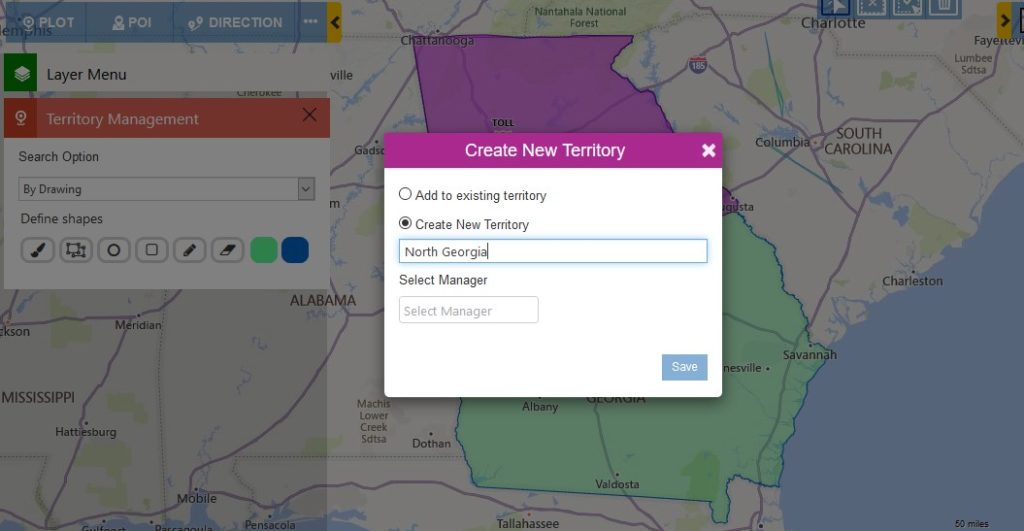 Now navigating to the Sales Territories section of Dynamics CRM, you will notice our newly created North Georgia territory in the system. From here, you may add members to the territory.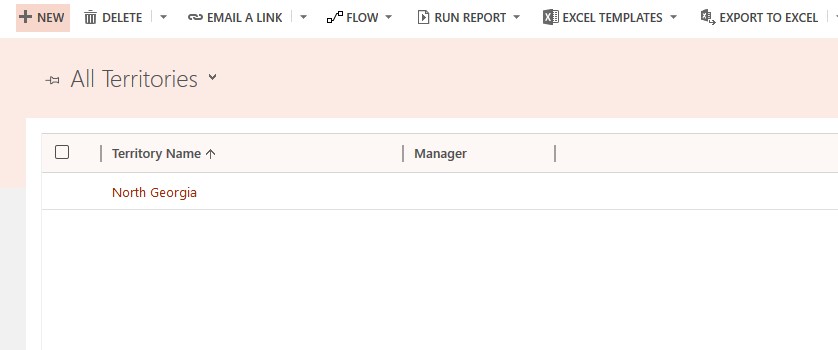 Thus, you have now seen some Maplytics features that can change the way your sales team operates. With Maplytics, your sales team will be able to get the most out of their D365 data and improve their overall sales performance.
If you are looking for help to implement Maplytics in you current Dynamics CRM environment, get in touch with out CRM team.