The modern sales process requires collaboration across sales, marketing, operations, logistics, accounting, and perhaps other staff when pursuing an opportunity. Microsoft Dynamics 365 for Customer Engagement (D365 CE) is the core tool to organize key sales-related information and to provide process tracking. Microsoft Teams is the ultimate collaboration platform from Microsoft. So, unsurprisingly, Microsoft has linked these very powerful tools.
Microsoft Teams
With integrations from Microsoft's other popular products, including Word, PowerPoint, Excel, and OneNote as well as SharePoint for document storage, Microsoft Teams makes efficient collaboration among small groups a reality. If that isn't remarkable enough, Teams also includes meeting, calling, and chat features, so users rarely have to leave Teams. Team members can edit and begin conversations on a range of documents. It is easy to share research, organize a last-minute conference call and update status of key tasks all within the Microsoft Teams application.
Microsoft has announced that the D365 CE app for Microsoft Teams will be included in the April '19 release. With the collaboration of Microsoft Teams and the automation and process discipline of D365 CE, sales teams will have a very powerful productivity tool.

Within the Microsoft Teams application, a user can create a new team, which itself can be composed of multiple channels. All of the collaboration is done within a channel. Each channel can be configured with different apps and these apps appear as tabs within the channel. Tabs might display a SharePoint library, a schedule, a OneNote document or a presentation.
Connecting Dynamics 365 Customer Engagement to Teams
There are dozens of different tabs that can be configured. It's here that the D365 CE tab can be added and connected to a D365 CE online environment running Dynamics 365 Customer Engagement version 9 or later. The tab displays one D365 CE record. In our sales scenario above, you might imagine that we could have a tab linked to an Opportunity record that the various team members can access and on which they can collaborate.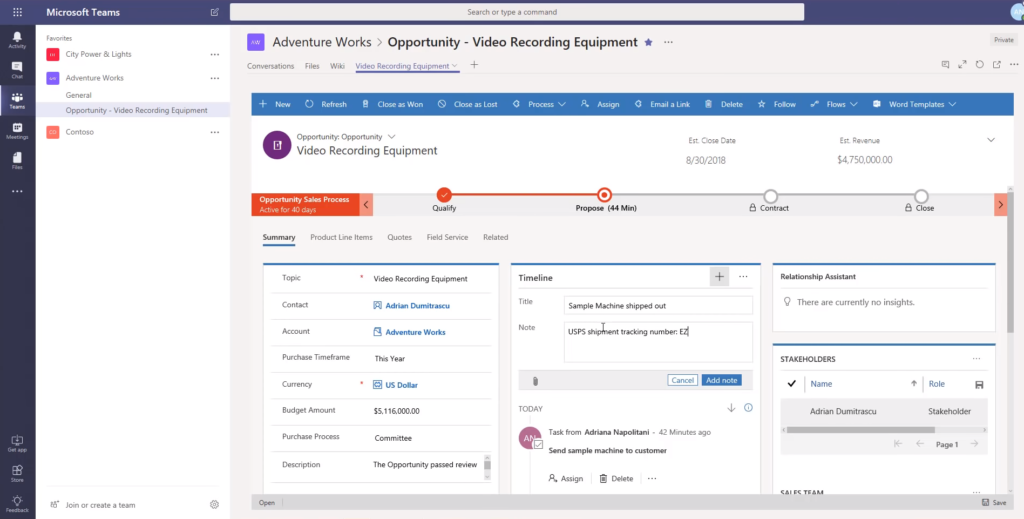 The record is fully functional with the same experience as a user signed in from a web browser. As shown in the example above, the record can be edited, added to, and saved all while working in Teams. Users will also be able to view dashboards to stay up-to-date on their accounts, opportunities, and activities. Throughout the process, users can engage using the chat functionality to ensure maximum success. There are many more features available that make Microsoft Teams and D365 CE the perfect combination!
For questions about this new feature or other Dynamics 365 for Customer Engagement questions, connect with a Customer Engagement consultant today.