In its annual Technology Value Matrix, Nucleus Research evaluates ERP market vendors based on their product usability and functionality, and the value that customers realize from the capabilities of the product. As a snapshot of the ERP landscape, the goal of this research is to help inform the market about how well vendors are delivering value to their customers and what customers and prospects can expect moving forward based on the investments vendors are making today.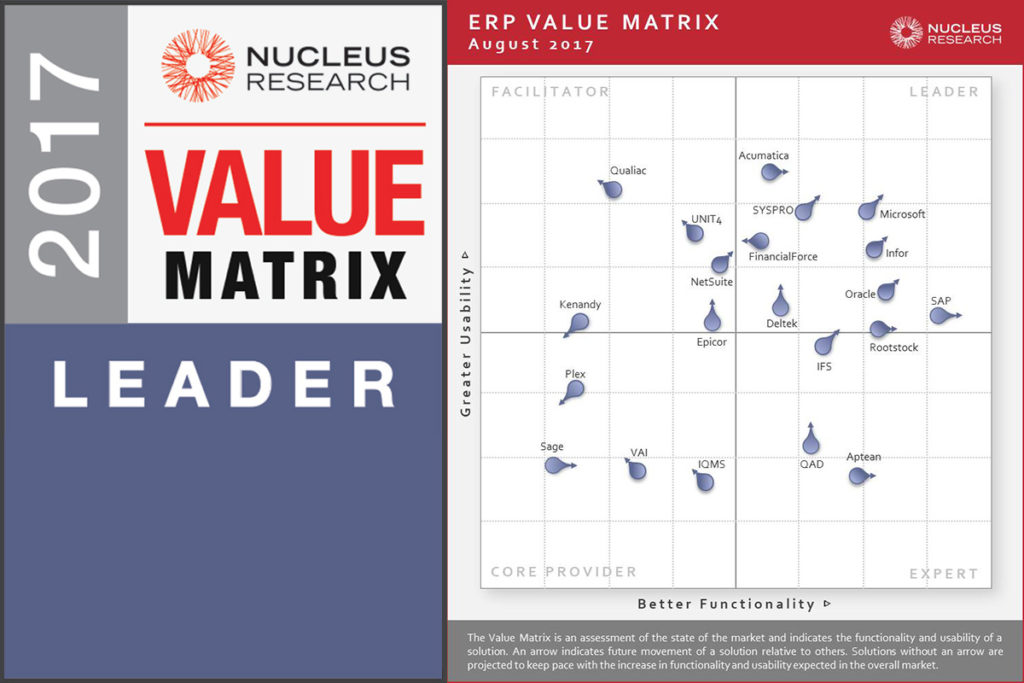 Microsoft continues as a Leader in the 2017 ERP Technology Value Matrix having made strides toward achieving its vision of delivering its productivity and enterprise applications with Dynamics 365 for Finance and Operations, Enterprise edition, delivered on an integrated business application platform on its cloud infrastructure. Microsoft recently announced a retail-focused module, Dynamics 365 for Retail, to go along with verticalized offerings in manufacturing, distribution, professional services, and public sector. Off the back of its acquisition of LinkedIn, Microsoft also recently put into public preview its cloud-based human capital management capabilities in Microsoft Dynamics 365 for Talent, which is added to the existing financial and supply chain management capabilities. For Microsoft, the focus has been on delivering new capabilities to the cloud first, although it did release an on-premise deployment option in its July 2017 update. Microsoft also has its hybrid cloud configuration in developer preview, which enables customers to keep edge applications on-premise while leveraging the cloud for scale and data aggregation. – Nucleus Research 2017 Technology Matrix
Microsoft was specifically called out for having achieved its vision of delivering its productivity and enterprise application, Dynamics 365 for Finance and Operations, Enterprise edition, for its cloud infrastructure, and verticalized offerings including professional services. Additional accolades were given to capabilities within Microsoft Dynamics which helps customers better collect and analyze their data as well as build applications to automate manual tasks: PowerApps, Power BI, Microsoft Flow, and Common Data Service. Lastly, Nucleus mentioned Microsoft Dynamics Lifecycle Services, which help customers manage their ERP throughout its lifespan, making implementations more predictable and standardized.
This is all great news for Microsoft Dynamics 365 customers! You'll also notice that Microsoft is over to the right on the quadrant, which means the company is an "expert/leader" when it comes to ERP software, and specifically for greater usability and better functionality. What could be better than that?
At Velosio, we've taken Microsoft's vision a step further. We've given you easy access to Microsoft's cloud offerings with our Cloud Marketplace. Along with other Velosio products, we've developed AXIO for Professional Services on top of Microsoft Dynamics 365 for Finance and Operations, Enterprise edition.
Best regards,
Robbie Morrison
Chief Solution Strategist, Velosio
---
About Robbie
Robbie Morrison has spent nearly 20 years helping customers build and deploy elegant technology and business solutions. From start-ups to enterprise-class organizations worldwide, his knowledge of the Microsoft Dynamics ecosystem and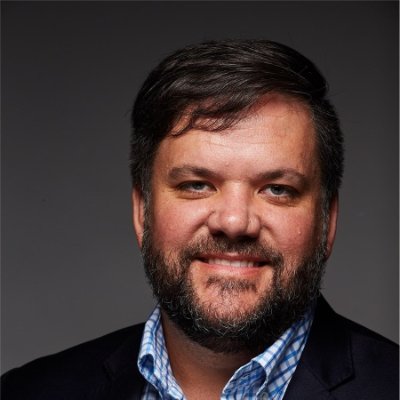 products helps Velosio customers maximize ROI on technology investments.
Today, Robbie serves Velosio customers in his role as Chief Solution Strategist where he provides thought leadership and manages the development of B2B solutions. Robbie received his MBA from the University of Georgia, Terry College of Business.
https://www.linkedin.com/in/robbiemorrison