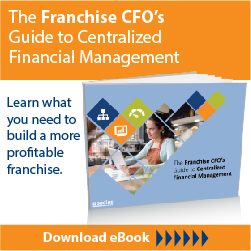 Franchisers and franchise operators have a unique business relationship. Franchise operators have a great opportunity to be their own boss by running a branded business that has already reached success as the franchiser provides training, resources and continually support to help the business grow. Between them, a range of data information is shared.
Franchise operators send financial information, productivity numbers, sales trends and other data to the franchiser. The franchiser gathers and analyzes the information to develop key performance indicators (KPI), track sales trends and note inefficiencies. Then the franchiser can send their data reports to franchise operators so they can better run their operations.
ERP Helping the Exchange of Franchise Information
There is a lot of data being sent back-and-forth in this arrangement. Having the most accurate, real-time data available helps provide more transparency to franchisers regarding each franchise location. Yet looking at the information for every franchise one at a time can be inefficient. Enterprise Resource Planning (ERP) software can centralize financial management systems so franchisers can look at all the data at once and in real-time.
They can manage invoices and control purchasing expenses, while negotiating better vendor prices. In addition, with the better KPI monitoring, the franchisers can evaluate upward and downward sales trends, providing more insight for franchise operators on what is working with their operations and what could use improvement. Other ERP benefits include more comprehensive fiscal report creation and dashboard accessibility so both franchise operators and franchisers can improve overall profitability.
Simplifying Operations with Automated Possibilities
A business operation is only as good as the data systems it has to work with for their accounting and sales operations. ERP solutions can provide better data flow, improve operational visibility and streamline workflow processes. This software provides franchise operators with user-friendly financial support tools while making it easier for franchisers to keep track of all of their business locations.