Has your company ever won a job where everything appears to be in order until, suddenly, nothing adds up?
Margin erosion is a term used to define loss of margin dollars that occur once a job has been won. More simply, it is a gradual reduction in gross profits over time. In the current economic climate, professional service firms are acutely aware of the threat posed by the erosion of profit margins.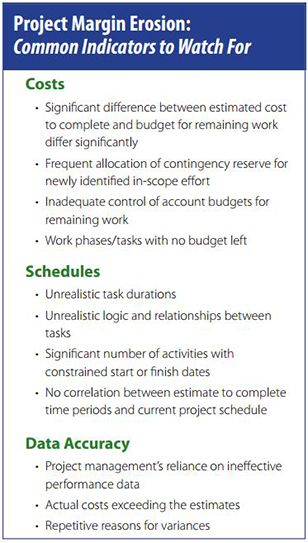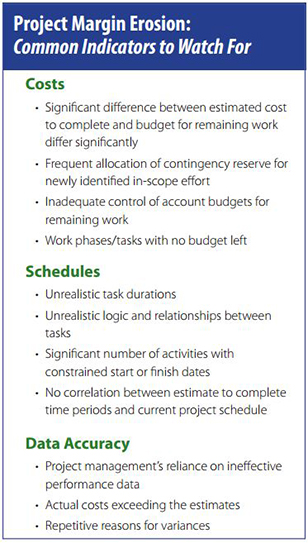 Many things can erode margins on projects. Some are harder to control than others, but by putting a few project management processes in place, your company can realize greater financial success on your projects.
There are 4 primary categories that encompass many of the problems that lead to margin erosion including bad estimates, scope creep, poor resource management and issues with clients. Here are some tips for closing the gaps:
Establish repeatable processes for providing accurate cost estimating.
Good estimates are the critical first step in assuring that your projects will be successful. However, even under the best of these circumstances, cost estimating is difficult. It requires both quality data and judgment.
Developing a good cost estimate requires:
An accurate project scope.
Access to detailed documentation and historical data.
Standard processes and work break down structures to ensure that no portions of the estimate are omitted and to make it easier to make comparisons to similar projects.
A risk and uncertainty analysis that allows a contingency for unknown costs, and an independent review to establish confidence in the estimate.
A project's approved cost estimate is a major component in creating a project budget.
Proactively manage the change order process.
Out-of-scope requests can kill project profits. How a firm deals with out-of-scope request can go a long way in determining a firm's profitability.
Change orders usually originate from a few common issues, including:
Miscommunication between the numbers of the project team
Minimize the effects of change orders on project profitability
Keep scope changes to a minimum
Provide visibility and effective coordination of resources.
Teamwork and personal productivity are critical in the services industry. People are a professional services firm's greatest asset and by keeping them busy on the right projects is absolutely critical to your profitability.
Arm yourself with information necessary to proactively respond to cases of margin erosion.
Project managers and principals need the tools to budget effectively, closely monitor actual time spent versus budget, adjust their planning based on the required changes and be armed with the information necessary to proactively respond to cases of margin erosion.
The solutions for avoiding project margin erosion all involve a combination of people, processes and tools. When it comes to technology, it is critical for professional firms to have solutions that support the effective collection and analysis of data to provide for better decision making and actionable, strategic reporting and key performance indicators at both the project and firm level. Together, these functions give firms the knowledge they need to achieve their profitability goals.