EDISON, NJ (PRWEB) APRIL 28, 2016
SBS Group, a leading enterprise resource planning (ERP) and customer relationship management (CRM) implementation and consulting company, is fully prepared for the release of Microsoft Dynamics GP 2016 on Sunday, May 1, 2016. Dynamics GP 2016 will mark the ninth update of the software since its inception. SBS Group has over 30 years of experience implementing and consulting ERP software, including Dynamics GP. They are capable and qualified to upgrade, train and consult companies and employees on the Microsoft Dynamics GP platform.
Microsoft Dynamics GP is a mid-market business accounting and ERP software. Originally called Great Plains, developed by Great Plains Software, it was acquired by Microsoft in 2001. It was then renamed Dynamics GP. Microsoft Dynamics GP is mainly used by small-to-medium sized businesses that are taking their first steps towards leaving an entry level accounting system.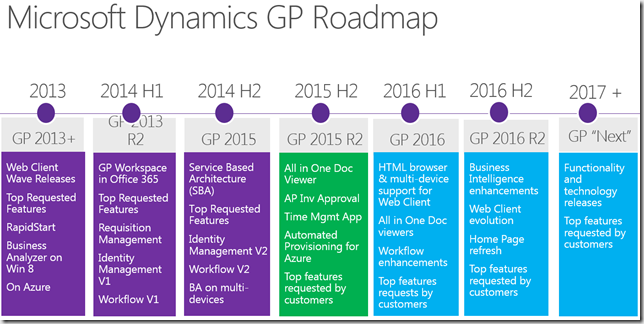 Microsoft Dynamics GP 2016 boasts many new features. Most notably, Dynamics GP 2016 will support a newly designed HTML5 web client which will be compatible with all major browsers and mobile platforms. Additionally, the Dynamics GP 2016 offers OData support and the ability to connect with Microsoft Power BI. At SBS Group's Summit 2016, an annual event for technology leaders to learn about the latest in cloud, ERP and CRM technologies, a few sessions will be focused specifically on Microsoft Dynamics GP 2016.
About SBS Group
SBS Group is a national Microsoft master VAR (Value Added Reseller) with Gold level competency in enterprise resource planning (ERP) and customer relationship management (CRM). Over the past 25 years, they have been recognized as Microsoft Partner of the Year, Inner Circle Member and Microsoft President's Club member multiple times. The company is headquartered in Edison, New Jersey and operates offices across North America. For more information, please visit SBS Group's website at http://www.sbsgroupusa.com. Follow us on LinkedIn at http://www.linkedin.com/company/sbs-group, on Twitter at http://www.twitter.com/sbsgroup and find us on Facebook at http://www.facebook.com/SBSGroupUSA.
---
To read the full release, click here.