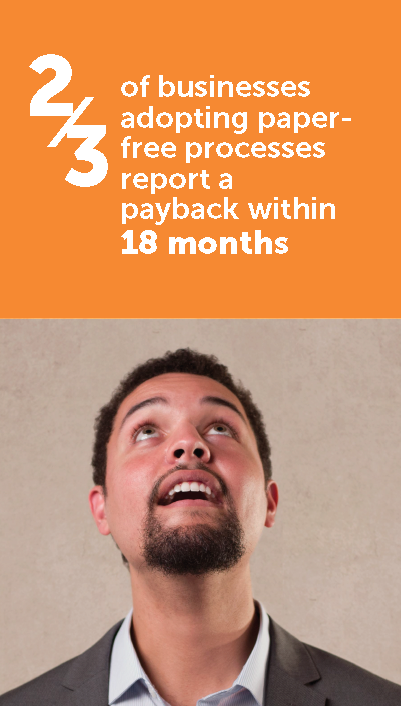 Documents are the life blood which informs all the processes of your business and contains critical data which supports your organization's transactions. Too often, that data has to be manually entered into your transactional systems. When data is locked up in documents or separated by departmental silos, it's not actionable. It's tough to stay ahead of the company's spending habits or your business results when you don't have the full picture.
According to an AIIM 2015 report, two-thirds of businesses adopting paper-free processes report a payback within 18 months.
When it comes to going paperless and automating manual processes, there is a cost to doing nothing. Consider how quickly businesses report a 100% return on their investment from their document manage system. For middle market companies who choose KwikTag as their document manage solution the numbers look even better. 80% of KwikTag customers report an ROI of less than a year, with 50% recouping their investment in 6 months.
Enterprise document management will help you tap into the data you are missing today to fill in the blanks. Through automated document management, you can:
Capture and automatically route documents to assign them for indexing and approval
Automate and intelligently extract relevant data and approvals online or via email
Extract actionable data from your digital forms
Through integration of enterprise document management with your ERP system, you can:
Instantly access scanned paper or digital documents from within your ERP system
Automatically route documents and collect data and approvals online or via email
Automatically create transactions in your ERP system from documents and related data
Contact your SBS Account Executive to schedule a free demo with SBS Group and KwikTag to learn how you can cut costs, increase efficiency and improve the quality of your work life by digitizing your documents and automating routine business processes.