One of the most, if not the most, expected releases from Microsoft this year was Microsoft Dynamics CRM 2013. This Dynamics CRM overhaul was aimed at making the program cleaner, faster, and more intuitive.
We previously discussed a few of the improved navigation features. Also a focal point for simplifying customer relationship management is enhanced communications.
One significant step towards simplifying communication is the addition of Quick Create Forms. Simply click the Quick Create icon and a form will display with a customize subset of fields to fill out. Any record type or activity can be created, and the process does not disrupt the current record you are viewing. This allows for more multi-tasking and eliminates the clutter of unnecessary fields. Here's a quick tutorial from Microsoft:
With the integration of Yammer, Microsoft Dynamics CRM 2013 now displays a 'Social Pane' that automatically shows generated posts from CRM and Yammer. Now on a record's homepage there will be a running history of CRM generated posts, such as when the record is created or updated, and any user generated posts, such as a support request or activity note.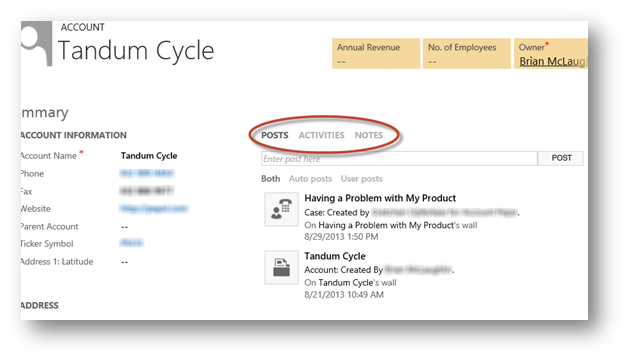 Only a few months into the lifecycle of Microsoft Dynamics CRM 2013, there are still dozens of features, tips, and tricks that can be learned. SBS Group offers Dynamics CRM 2013 in our "Up in 2" program. We can get your organization up and running on Dynamics CRM 2013 in just 2 weeks. You can contact us from more information and look for more posts on Dynamics CRM features, tips, and tricks.
Related articles