The good news for the construction industry in July – "…unemployment fell to 9.1 percent, down from 9.8 percent last month and significant decrease from the 12.3 percent jobless rate reported in July 2012." The bad news? Builders recorded a loss of 6,000 jobs for the month.
Less jobs and a lower unemployment rate? The numbers make sense, unfortunately, when compared to spending costs. In June, overall construction spending declined .6 percent, hit hard by the nonresidential spending that was down 1 percent. According to Anirban Basu, the Associated Builders and Contractors chief economist "That type of performance is not consistent with robust job creation, so it's no surprise that the construction industry did not deliver net new jobs last month."
Even though the nonresidential building spending was down, employment in that sector increase by 300 jobs, and is up 2.8 percent since July 2012. The growth of nonresidential specialty trade contractors rose as such a rapid pace that even with the 9,800 jobs lost in July, the sector's employment rate remains 1.8 percent higher than July 2012. Heavy and civil engineering lost 2,000 jobs, but employment remains up 2.2 percent on a year-over-year basis. While job growth occurred in the residential sector, with specialty trade contractors adding 6,200 jobs in July, growing 5.8 percent since July 2012, this is not nearly enough to offset the jobs lost.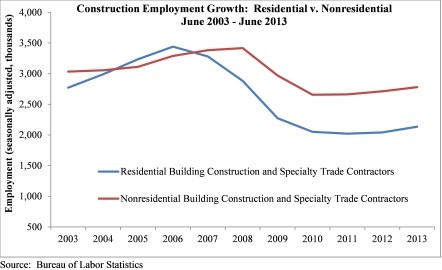 The employment rate drop can be attributed to workers leaving the industry. Many companies are finding lean ways to accomplish tasks that previously would take multiple employees to manage. Project management software has become increasingly popular to developing projects, managing schedules, and tracking resources. The conflicting data throughout the construction industry is beginning to show a divide of those that maximize their resources and take advantage of new technology, compared with those who are falling behind. SBS Group can help with our industry experts and management software tools to ensure you're staying ahead of the competition.